Kelowna wineries are a feast for the eyes and taste buds
Take a few hours to enjoy the offerings and splendid lakeside views of these wineries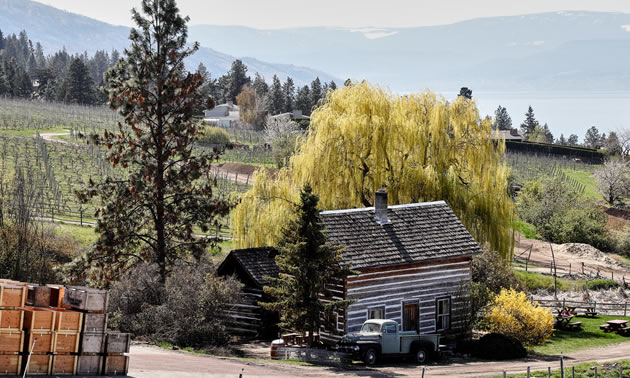 Expect to be seduced by the wines of Kelowna as knowledgeable hosts and award-winning winemakers pour their wines and share their stories.
It is Friday afternoon in late April, the sun is out, so my husband and I decided to go visit a few wineries nearby in Kelowna. Spring in the vineyards offers a more intimate experience without the hustle and bustle of the summer and fall crowds. The staff are all smiles and have more time to make your visit a memorable one. Here, the cool-climate whites shine as the reds are better suited for the warmer climate of South Okanagan.
Sperling Vineyards
We decided to focus on Sperling Vineyards because I know Ann Sperling from my wine-touring days in the Niagara peninsula. Ann is a famous Ontario winemaker, and I have good memories of her delicious wines. The rich mineral content of the soil and high elevation on the slopes of Kelowna make for smooth organic wines shaped from old as well as new vines.
The whites, all around $30, are very lush, including the 2015 Chardonnay which offers bright acidity with a hint of oak and a long finish. The 2014 Old Vines Riesling has a nice mineral and lime taste and a silky mouthfeel. Sperling's flagship is a traditional method Sparkling, the 2010 Brut Reserve at $42, full of tiny bubbles bursting with delicate flavours to be poured anytime you feel like celebrating. The 2015 Late Harvest Riesling is quite luscious and fragrant, an excellent alternative to ice wine. The most interesting red is the Old Vines Foch Reserve, with a rustic style, perfect with grilled meats. There are also two refreshing Market Wines, red and white, for a quaffing take on a hot summer day at $19.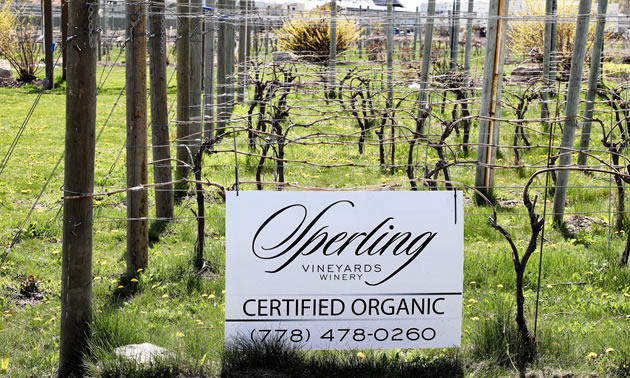 Summerhill Pyramid Winery
Our next stop is Summerhill Pyramid Winery for lunch. This place is crowded in the summer, so it was a real treat to be there on a slow Friday. The view is spectacular, and the organic wines are balanced and smooth. A giant champagne bottle, floating in the sky, greets you as you enter the winery. The actual pyramid serves as a wine cellar.
A few years ago, I attended an elegant gourmet dinner at their Sunset Organic Bistro with a group of foodies. We were served the exquisite 1996 Cipes Traditional Cuvee made from traditional Chardonnay, Pinot Noir and Pinot Meunier. This wine is a consistent winner—it is divine and alive! This spring for lunch I enjoyed a complex Pinot Noir while my husband savoured a hearty spicy Syrah on the terrace; we shared an expensive but somewhat sparse charcuterie plate.
Tantalus Vineyards
Tantalus Vineyards, established in 2004, offers stunning lake views. Its 2016 Riesling Ice Wine ($65) is well balanced with apple and pineapple notes. It must be sipped, a few drops at a time, paired with pâté or blue cheese. A feast to the senses! Other offerings include well-crafted Riesling and Chardonnay, Pinot Noir and Syrah.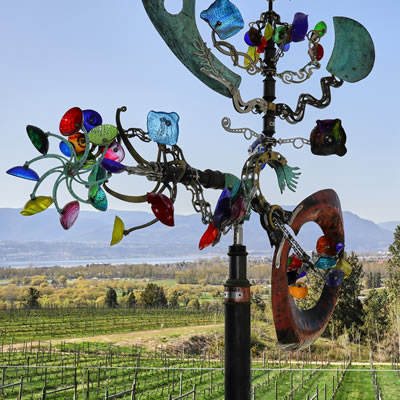 Three wineries are our maximum in one day as our nose and taste buds do get tired after so much tasting. But another winery not to be missed in the Kelowna area is St. Hubertus and Oak Bay Vineyards, a quaint little place with a bucolic ambiance that we visited a couple of years ago. We enjoyed strolling through the vineyards and delight in the view of the lake and mountains. The organic wines are more affordable here, many priced under $20.
The Gebert family philosophy is to use minimal intervention to create wines rich in flavours and soft tannins that display the complexity of the Old World, but with a clean fresh fruit approach.
Their Oak Bay label is reserved for the oak-aged wines. The medium-body 2014 Pinot Noir is rich in plum and cherry notes with hints of tobacco. For the whites, I liked the grassy floral notes and fresh acidity of lemon zest in the $20 St. Hubertus Chasselas 2016. This Swiss wine is perfect for your cheese fondue or raclette, as well as with seafood and pork. It is also great on its own as an aperitif too!
Next time you are in Kelowna, I highly recommend you take a few hours to enjoy the offerings and splendid lakeside views of the small and large wineries alike.