Top things to see and do in Indio
Indio and the surrounding area's festivals cater to a variety of interests
by Glynis Fediuk —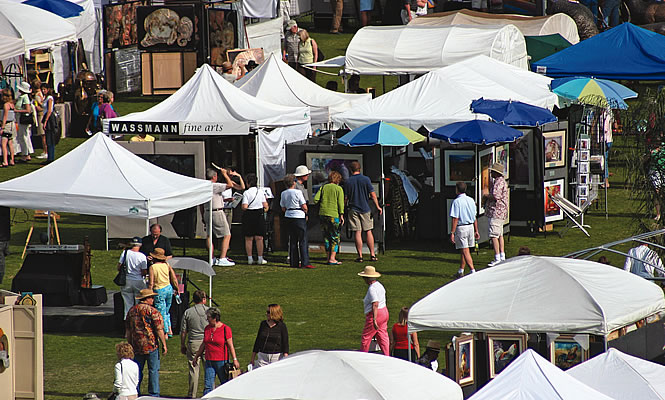 Indio's nickname, The City of Festivals, gives a visitor a good idea of what to expect in this happening community. Read on for just a taste of the events Indio has to offer, and start marking your calendar.
1) Admire the painted ladies
After a quarter-century, the Southwest Arts Festival is still going strong and is a respected and well-known event in the art world. The artists arrive from around the globe to take part in the judged competition and display their creations. The art on display here comes in many forms and styles, from jewellery to sculpture and from modern to traditional.
The Southwest Arts Festival takes place from January 28 to 30 at Indio's Empire Polo Club.
2) Make a date in February
Hundreds of thousands of date palms are grown in the Indio area—so what better place to have a festival celebrating the date harvest? The Riverside County Fair and National Date Festival takes place at the Riverside County Fairgrounds.
More than just dates, the entertainment ranges from monster trucks to musicians. There are thousands of exhibits and a Date Festival Queen is crowned.
3) Open your ears in Coachella
The Coachella Valley Music and Arts Festival—often simply referred to as Coachella—and the Stagecoach Country Music Festival are two major music festivals that are held in the Coachella Valley every year. The first is a showcase of both modern and classic acts. The genres range from electronic music to rock.
For those not into rock and pop, the Stagecoach Festival showcases some of the best in country music.
4) Giddy-up to Thermal
Thermal, about 10 minutes from Indio, is the site of a six-week primo show-jumping event. The Horse Shows in the Sun (HITS) Thermal Desert Circuit consists of a number of competitions, including several FEI World Cup qualifying events. Some of the most decorated riders in the equestrian world will be competing.
5) Go wild at this western gala
From rodeos and barbecue to a Gene Autry-themed film festival, Palm Springs WestFest fully embraces the Wild West during an entertaining four days. Palm Springs WestFest takes place in Palm Springs, located a half-hour from Indio.