Old Town LaQuinta is a charming destination for art lovers
Fountains, sidewalk cafes and plenty of free parking make Old Town a delightful destination
by DaleAnn Shellborn —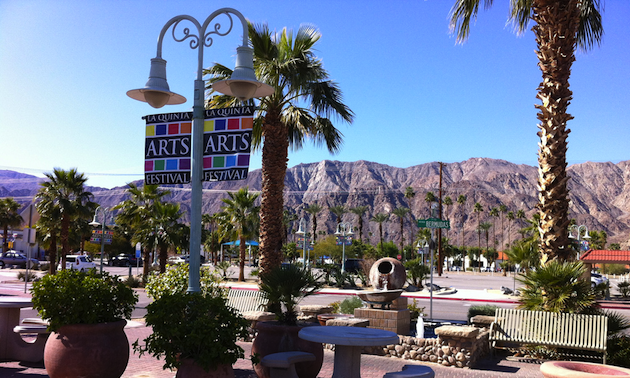 Art-loving visitors to Indio will make sure to schedule their trip around the Southwest Arts Festival held each January at the Polo Grounds. But outside of that event there is plenty to capture the eye of those who thrive on artistic discoveries.
Just down California Highway 111 from Indio is Old Town La Quinta, a charming and pedestrian-friendly shopping district reminiscent of the plazas of Spain. Fountains and sidewalk cafés add vibrancy to streets lined with locally owned boutiques and galleries.
La Quinta Gallery of Fine Art
In the southeast corner of Old Town La Quinta you'll discover a jewel of an art gallery operated by Silva Segrist. La Quinta Gallery of Fine Art is a labour of love for Segrist, who is herself an artist. Besides paintings, the gallery displays sculpture and fine art jewelry.
"The gallery showcases an exciting cross-section of original contemporary landscape and figure paintings, with an emphasis on plein air works in oil, acrylic, pastel and watercolour," said Segrist. "The majority of the selected artists are American born and educated, but I also exhibit paintings from a Canadian artist called Neil Boyle."
Segrist enjoys giving gallery visitors a personal tour of the works on display, all of which are carefully chosen after a review of the artist's portfolio.
"We are a very traditional fine art gallery wishing to represent artists who have had classical training in fine art," said Segrist.
The gallery is open from October to May each year.
Art Under the Umbrellas
A completely different artistic discovery can be found on selected Saturdays in the Main Street green space of Old Town La Quinta. The local arts foundation brings together artists and artisans for an event called Art Under the Umbrellas, complete with live music to entertain visitors.
Locals and snowbirds alike enjoy browsing the wares, shielded from the desert sun by colourful umbrellas. More than 70 artists set up booths and displays, and admission is free.