Live out your heart's desires
Going beyond the ordinary, Indio offers up a host of unique activities for RVers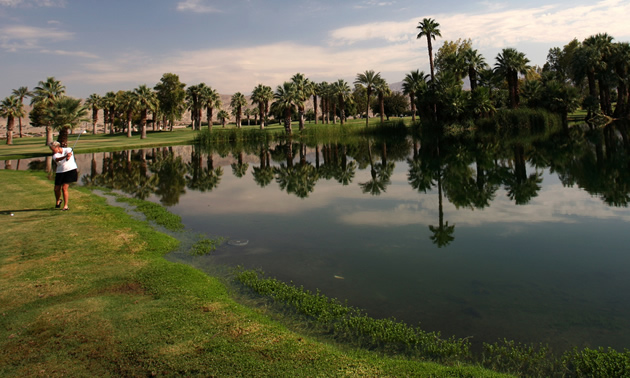 Like many of California's cities, Indio boasts warm temperatures and an ideal climate that make it the perfect place for visitors to kick back and shoot a round of golf, hit a couple of sets of tennis, or toast the warm California sunshine with a cool drink on the patio.
But unlike many other communities, Indio also offers some unique activities and experiences that you'll find nowhere else.
Every man's polo
Once thought to be solely the property of the rich and elite, polo is rapidly evolving into an activity that's opened up to the common man.
"There's lots of polo events going on here in Indio throughout our winter weekends," said Joyce Donaldson, president and CEO of the Indio Chamber of Commerce. "And it's not something that a lot of other communities offer."
The Indio polo experience—in addition to giving visitors the chance to take in events every weekend like Friday Night Under the Lights games and Sunday Polo free of charge—also helps people learn the rules of this sport of kings first-hand, through Polo101 offered at the Empire Polo Club.
The centre of culture in Indio
Another activity outside the norm in Indio is one that has recently been popularized in the television show Dancing with the Stars. Now, thanks to the Indio Performing Arts Center, everyone can be a star when they take in the Big Band Ballroom Sundays.
Ballroom dance lessons are available for a mere $10 a lesson; the lessons take place each Sunday in the centre's newly redecorated Avalon Ballroom with its new oak parquet dance floor. Ted Herman's 17-piece orchestra plays the big band sounds for these affairs. But that's not all the arts centre has to offer.
"Our Performing Arts Center is consistently a very, very busy centre," said Donaldson. "They do all sorts of concerts, live theatre and a ton of programming. They have so many activities it's almost too hard to list them all. It's really a huge asset for our community."
Discover your inner Robin Hood
Yet another activity that rockets Indio to the top of the list as a unique activity destination, said Donaldson, is the archery lessons available locally through Robin Hood Archery. Certified instructors provide archery lessons for all levels; you can sign up for lessons or drop in any Saturday to give archery a try at a special shoot that allows you to rent equipment and try it on for size for only $5—with the first time being absolutely free.
These are no ordinary seniors
Even the city's new seniors centre, which caters to the baby boom generation, has reinvented the concept of "senior" and taken it to a new level; members can really work out and try new activities like yoga and tai chi.
New night moves
No matter where you go in Indio, there's always something beyond the ordinary to be found. Even Indio's approach to a standard activity like golf has been given a new twist.
Not content to simply offer daytime opportunities—and given the warm evening temperatures—Indio's 18-hole municipal golf course is fully lit and open until 10 p.m. Providing a challenge for even the most seasoned of golfers due to the change in depth perception that the lighting creates, playing the course at night delivers an experience unlike any other—and one that every golfer should try at least once in their lifetime.
Take to the ponies like a prince, dance like a star, become one of Robin Hood's merry men, take your golf game to new lights and heights, or join up with a group of active seniors looking to get the most out of life. Indio has taken the ordinary and made it extraordinary.