Indio is a premier destination for RVing lovebirds
Get caught up in the drama, play a round with your partner or go on a date with your sweetie in the self-proclaimed Date Capital of the U.S.
by Karen Kornelsen —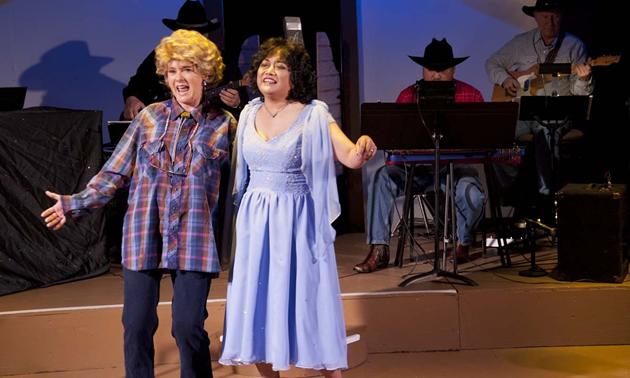 Couples travelling to Indio have a variety of activities to enjoy together. Don't miss out on the chance for romance in the hot, sunny community of Indio, nicknamed the City of Festivals.
Indio Performing Arts Center
The Indio Performing Arts Center (IPAC) is a great place for couples to take in some culture and entertainment. The 2,000-square-foot facility features three stadium cinemas and a very large auditorium and foyer.
David Clinton-Reid, the CEO of IPAC, said the City of Indio took over the building in 2005 and made a venue possible for plays, musicals and cinematic events as well as a place to hold classes for kids and adults.
"There are not many theatres around here, in the east end of the valley," said Clinton-Reid, "so a lot of people travel here, like snowbirds with their RVs, and absolutely love this place. It's so convenient for them, being straight off the freeway."
Two big shows are coming to the IPAC this season. From January 4 to 20, the most talked-about show of 2011, Always . . . Patsy Cline, returns to the IPAC with the same cast. Starring Dia Nalani as Patsy Cline and Jeanette Knight as Louise Seger, the show is based on the true story of the letters between Cline and her greatest fan, Seger; the letters were always signed "Love always, Patsy Cline." You will be amazed and delighted by this musical play—complete with humour, emotion and even some audience participation. The show includes many of Cline's unforgettable hits such as Crazy, I Fall to Pieces, Sweet Dreams and Walking After Midnight—there are 27 songs in all.
"The shows were featured across the country in 2011 and were very popular, but what made ours so spectacularly different was the cast members," said Clinton-Reid. "Dia Nalani and Jeanette Knight were just amazing. Nalani did such a phenomenally good job that when people shut their eyes, they thought this was the true Patsy Cline. Knight is also phenomenal, so we are bringing them back. We had to turn people away last time, so it's a great opportunity for us to reintroduce the show."
The other show not to miss is The Johnny Cash Story: The Man, The Music, The Memory; it will run from February 8 to 17. Both shows have stadium seating, so everyone has a great view of the stage.
"IPAC is definitely the place to be for couples RVing across the country," said Clinton-Reid. "It is very close to parks (and) hotels, and there are fabulous restaurants nearby. The biggest draw I think is that every guest is treated with much care and attention at IPAC. We want to make people feel welcome."
Fantasy Springs Resort Casino
Fantasy Springs Resort Casino can offer couples an incredible getaway experience. The resort is situated in Indio with amazing mountain views. The facility offers a number of exciting options for a romantic night or day out. Couples have the opportunity to try their luck at the award-winning casino, which has more than 2,000 slots, video poker, 40 table games and friendly dealers. If gambling isn't up your alley, there are a number of restaurants where you can share a romantic meal. For an intriguing Asian dining experience where traditional Chinese recipes meet modern design, check out Joy. The restaurant has world-class chefs and an extensive menu.
Golf is another option for couples who want to do something active in a beautiful setting. Eagle Falls Golf Course is an 18-hole, 6,715-yard, par-72 challenge designed by renowned architect Clive Clark. A parcel of desert transformed into a masterpiece of elevations and water features, the course can be a fair test to the average golfer.
Shields Date Garden
Indio, California, prides itself on being the Date Capital of the United States—so what better way to explore Indio than to take your date to Shields Date Garden. Located on Highway 111 in Indio, Shields Date Garden is a must-do activity for any couple, young or old. Floyd and Bess Shields came to the California desert in 1924 and started Shields Date Garden. A 15-minute film, Romance and Sex Life of the Date, shows continuously during operating hours.
Floyd was a pioneer in the date business, breeding his own varieties of dates that are exclusive to Shields Date Garden and grown nowhere else in the entire world. He invented the Date Crystal, a blend of dates turned into a dry product that can be used in cooking, on cold cereals and even in date shakes.
Couples that visit Shields can dine at The Café at Shields Date Garden, which specializes in traditional American and Mexican dishes. The majority of The Cafe's seating is on the outdoor patio, which is bordered by a rose garden and date palms. The café is open daily from 7 a.m. to 2:30 p.m. for breakfast and lunch.