Hinton is full of natural wonder
Wildlife and amazing scenery await at the edge of the Rocky Mountains
by Catherine Conroy and Keith Powell —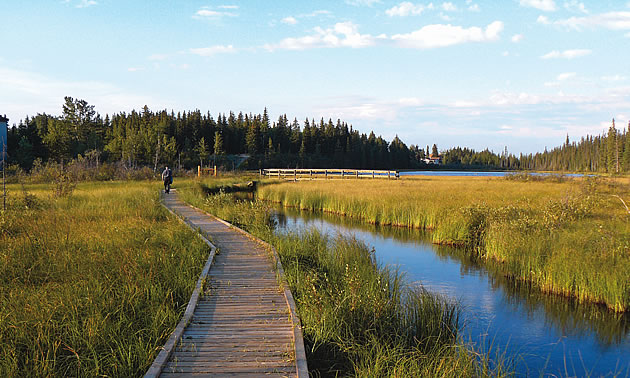 Hinton is the gateway to Jasper National Park in the Canadian Rockies, and the community takes pride in its walking and biking trails. The trails interconnect with places like Maxwell Lake, where one can stroll along the three-kilometre Beaver Boardwalk, the longest freshwater boardwalk in North America. At dusk and dawn, people can observe the busy beavers in their natural habitat; if you are quiet, you may even get an up-close look at a beaver, as they do not have good eyesight.
The Beaver Boardwalk is a unique wooden pathway that winds through wetlands and a living and fully functioning beaver pond. It features seating areas, an outdoor classroom, interpretive signs and two observation towers from which one can also view a multitude of bird species, including the rufous hummingbird, the most northern species of hummingbird in the world. These wetlands are also home to mule deer, wolves, bears, red foxes and coyotes.
The Beaver Boardwalk connects to walking and biking trails and the 37-acre Hinton Mountain Bike Skills Park, which has dirt jumps, a skills area and multi-purpose trails. All these amenities are free to use.
While in the area, visitors can also enjoy a soothing soak at Miette Hot Springs.
There are more than 30 campgrounds and RV parks in the Hinton area. RVers will find four dumping stations in Hinton: at the Canadian Tire, the Esso Travel Centre, the Husky Car and Truck Stop and the Hinton Centre Campground.