Explore the outdoors in Hinton, Alberta
Tucked just beside Rocky Mountain splendour, Hinton, Alberta, provides its own opportunities to enjoy nature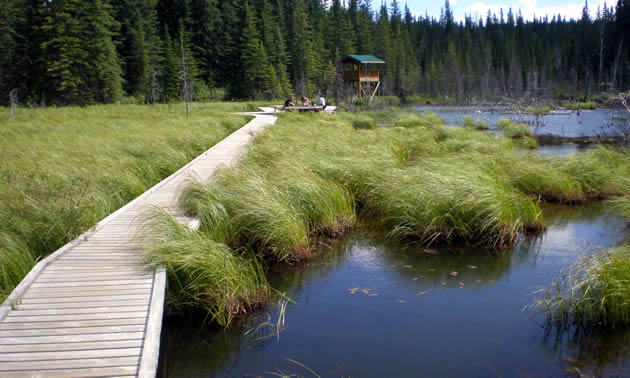 You may already know of Hinton, Alberta, as a place to stay if you're visiting Jasper National Park. The town is 15 minutes from the park gates and is conveniently close to Miette Hot Springs and Jasper Lake. It's also an easy drive from Hinton to William A. Switzer Provincial Park.
With all this beauty in Hinton's front yard it would be an easy mistake to overlook everything that can be found right on its doorstep. There are some exceptional hiking trails in the area. One of the more notable walks will take you right into the midst of a wildlife viewing opportunity.
"Beaver Boardwalk takes you through natural marshland," said Emily Olsen, communications co-ordinator for Hinton. "It's between three and four kilometres long. There's a pretty active beaver lodge and beaver dam in that marshy area. So, first thing in the morning or around dusk is the best time to go to see the beavers hard at work."
Beaver Boardwalk has benches along the route, as well as two viewing towers, and is also a good place for watching birds or other wildlife. For the best parking, head up the hill on Mountain Street in Hinton. Beaver Boardwalk comes up unexpectedly and, across from a smaller parking area, is a parking lot that provides easy access. The boardwalk also ties into Hinton's forested trail system, as well as its diverse skills park for mountain bikers. More adventurous campers can pedal their way through more than 30 kilometres of bike trail.
For a walk that also offers interpretive information, try the Hinton Training Centre Trail. The centre can provide you with a brochure for the 1.1-kilometre trail. Use the opportunity to learn about the area's forests and the history of managing them. The training centre moved to Hinton in 1959 and the site also has a museum on the life and work of early forest rangers.
So visit the parks, soak in the hot springs and marvel at the Rockies—just don't forget to also enjoy everything that Hinton has to offer.