A taste of Paris on the Prairies
You'll feel like you're in Paris at this bistro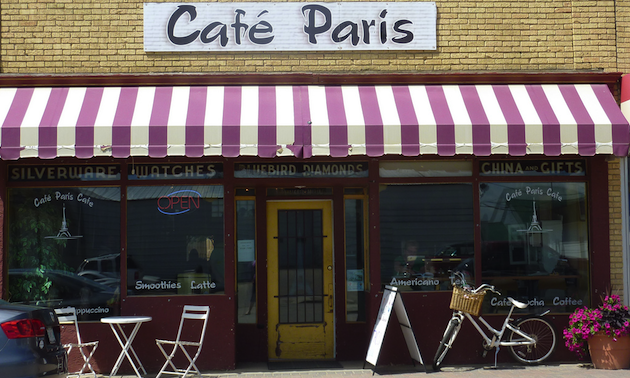 Walking through the town of Gravelbourg, you get the feeling that you're no longer strolling through a small Prairie town but rather a quaint European village. The community was founded as an outpost of French Canada by Catholic priest Father Gravel. The townspeople speak French among themselves and the town also boasts a number of other European influences—all of which can be sampled at the Café Paris.
The café is owned by Dutch-born Toos Giesen-Stefiuk, who moved to Gravelbourg many years ago. She had a dream of bringing a little of the Europe she loved and missed into her new home, and when you walk into Café Paris you instantly know she's succeeded.
Popular amongst locals and tourists alike, the eatery has all the classic elements: bistro tables out front, bright cheerful colours, local French-style artwork on the walls, even a gorgeous back patio for alfresco dining.
The menu
Yet, when looking to capture the flavour of a continent, decor is only half the recipe. Having the right food and beverages to complement that decor is crucial.
At Café Paris, breakfasts include croissants and Belgian waffles as well as a variety of omelettes. The café also serves up fantastic lunchtime fare, featuring European-inspired paninis, the making of which can be seen on a quick instructional video on the Café Paris website. The French Panini is made with tomatoes, fresh basil, brie cheese and balsamic vinegar, all combined and grilled to perfection. In the mood for a Greek or Swiss panini instead? The restaurant serves those as well, along with equally inspired Paris and Greek salads. The Italian Quesadilla is made of fresh vine-ripened tomatoes, spinach and Italian-spiced chicken, all topped with feta cheese and served with cucumber slices. Complete your delicious lunch at Café Paris with a Dutch butter tart and a cappuccino, latte or other espresso beverage to gain the full flavour of your European experience.
If you've seen the inside Our Lady of Assumption Co-Cathedral, you already know that there's more than meets the eye in Gravelbourg. After a morning or an afternoon of exploring the exquisite works of art there, Café Paris is the perfect place to wind down and fuel up as you head out to explore some of the other wonders of Gravelbourg.