Become inspired in Fruitvale
Fruitvale has a lot to offer the artistically inclined
by Lisa Crane —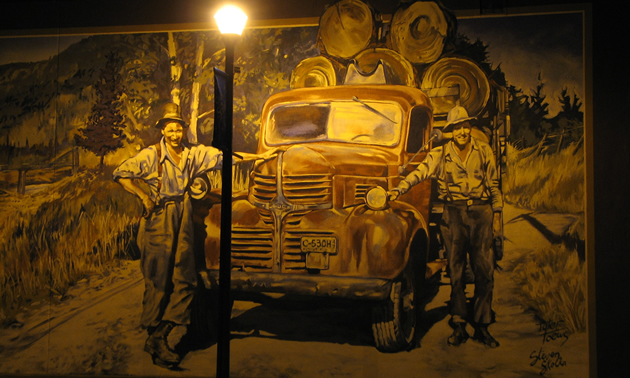 Get out your sketchbook or pick up your paints—Fruitvale is guaranteed to get your creative juices flowing. Melissa Zahn, executive assistant at the local village council, said that Fruitvale is a clean-air community with spectacular natural scenery.
"Artists would love our area for the numerous breathtaking nature opportunities available all year long," said Zahn, "(like) the soft white snow in winter glistening on frozen trees on bright blue days, the myriad of fall tree colours, Beaver Creek cascading through town, the gorgeous mountains and nearby Champion Lakes."
Zahn said that spotting many types of wildlife—birds, deer, raccoons, bears and cougars—is not unusual. Fruitvale also features a mural in town, and this is not the only one in the area.
"Trail has at least four of their own," said Zahn, "and it also boasts rock walls and the Visac Art Gallery."
Flowers, trees and trails
Zahn said Fruitvale has received a number of awards, including five Blooms—the top award for the Communities in Bloom competition—for its Beaver Valley Blooming Society work. Large, colourful flowerbeds, hanging baskets and vintage street lights bring character and charm to the village.
"There are pretty picnic tables for a nice lunchtime spot," said Zahn. "We normally have a garden tour each summer taking participants into residents' own personal flora hideaways."
Zahn said the town offers many hiking and walking options, providing perfect artistic opportunities—there is a trail system and walking path right in town.
"The nearby village of Montrose boasts a great viewpoint (along) its Antenna Trail," she added.
In November, the community holds a craft fair at which talented local artists are featured, and you may also find local artwork on the walls at the Beaver Valley Public Library.