Make Fort Nelson your family's destination in the northern Rockies
Mile 300 of the Alaska Highway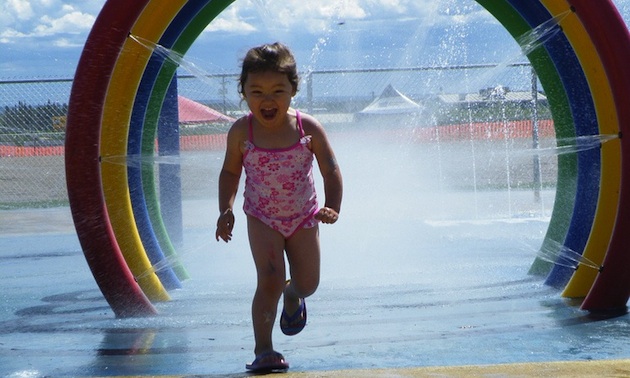 Andy Bailey Regional Park
Located at Kilometre 426 of the Alaska Highway, 28 kilometres southeast of Fort Nelson, Andy Bailey Regional Park is a quiet, lush boreal forest with recreational areas that include a beach, picnic sites, fire pits and a small five-site campground for families to enjoy.
According to Jaylene Arnold, tourism officer for the Northern Rockies Regional Municipality, the lowland park is "an awesome place to spend an afternoon or even overnight with the family."
Once referred to as Jackfish Park, this area has jackfish and northern pike in the lake for families with access to a non-motorized boat.
"Awesome fishing, boating and a day at the beach awaits," Arnold said.
Fort Nelson Rotary Club Spray Park
The Fort Nelson Rotary Club Spray Park, located at the Art Fraser Park adjacent to the Alaska Highway, provides a second place to cool down in the area of Fort Nelson.
"A popular attraction for locals and visitors alike. You can't miss the brightly colored Rotary Spray Park located at Mile 300 of the Alaska Highway," said Arnold, adding that the spray park playground is "definitely worth the stop to let the kids cool off and burn off some steam."
The quarter-million-dollar spray park was opened by the Fort Nelson Rotary Club in the summer of 2010.
Fort Nelson Heritage Museum
Also located next to the Art Fraser Park, the Fort Nelson Heritage Museum grounds are a must-see walking adventure.
The theme of the museum is transportation, because the first collection was an antique car and truck collection. Today, the museum collections have grown to include both indoor and outdoor displays of construction equipment, artifacts from the Alaska Highway, extensive wildlife displays, a Hudson Bay Company house, a trapper's cabin and even a stuffed albino moose.
Visit fortnelsonmuseum.ca for information on events and admission prices.