Top things to see and do in Fort Nelson
Five engaging attractions will keep you entertained while visiting this gateway community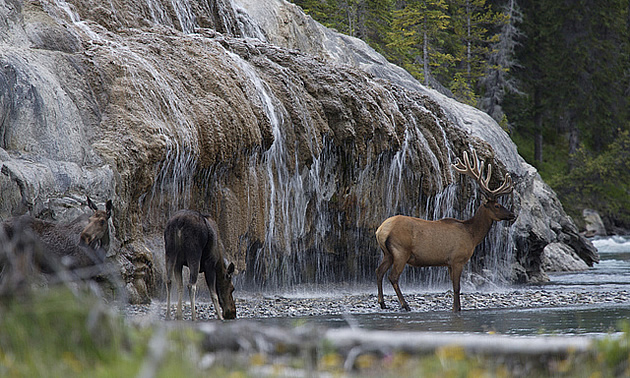 From its location at Mile 300 on the Alaska Highway, Fort Nelson is a popular stopping point for those travelling north through B.C. The wilderness surrounding this pleasant community makes it an exciting place for anyone who relishes camping, hiking or other outdoor recreation. There are also plenty of things to do in town.
1 ) Park it
The Fort Nelson area has a selection of parks where outdoor activities can be pursued. Andy Bailey Provincial Park is located 28 kilometres southeast of town. Visitors can go fishing, canoeing or swimming at the lake here, and there is a full-service campsite as well. At Jackpine Remnant Provincial Park (60 kilometres north of Fort Nelson off Highway 97), you can see the protected old-growth Jack pine forests, camp in the backcountry, hike or view the wildlife. If you prefer to stay closer to town, the Community Forest in the Fort Nelson Lowlands offers trails that are perfect for hiking, bird watching and other activities. A trail guide can be obtained at the Visitor Information Centre.
2 ) Get wet and wild
At the Fort Nelson Aquatic Centre, visitors can swim in a 25-metre, five-lane pool. There is also a waterslide, whirlpool, diving board and sauna at the centre, which is open year round. For information, call 1-250-774-6464.
3 ) Be active
Sports fans will enjoy the Fort Nelson Recreation Centre, where there is a hockey and skating arena, outdoor tennis courts and a five-sheet curling rink. Spectators can watch the action from the centre's lounge and viewing area. For information, call 1-250-774-3925.
4 ) Take in a show
The Phoenix Theatre boasts 275 seats, and hosts a range of entertainment options such as newly released movies and live performances. The local art gallery is also housed here.
5 ) Learn a bit of history
The Fort Nelson Museum, open from May to September, has souvenirs, gifts and historical exhibits to check out. Learn about this area's rich background, including the construction of the Alaska Highway. For information, call 1-250-774-3536.