Hit the greens in Fort Nelson
Poplar Hills Golf & Country Club attracts golfers to Fort Nelson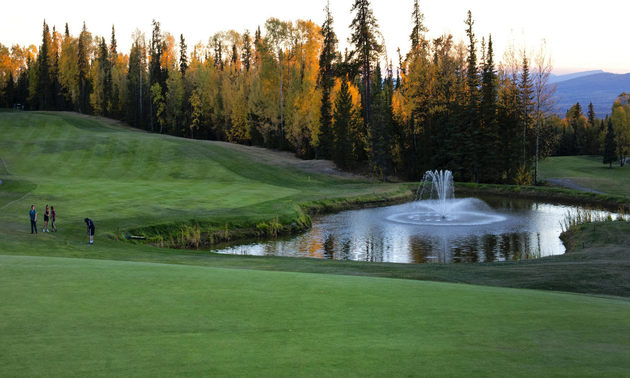 Fort Nelson is one of northern B.C.'s hidden hot spots, with lush wilderness, historical sites and year-round outdoor recreation opportunities.
For golfers, there's something even better in store—Poplar Hills Golf & Country Club—which can be found at Mile 304 on Radar Road, nestled high above the Muskwa Valley.
This public, nine-hole facility provides stellar views of the northern Rockies and challenging play. There is a driving range, pro shop, grass greens, concession and equipment/cart rentals. After your game, relax at the clubhouse's fully licensed lounge, which has ample space to entertain large groups and accommodate tournaments.
Tuesday is ladies night, with a 6:30 p.m. shotgun start. Wednesdays have a 6 p.m. shotgun start and feature the men's commercial golf league. Guests are welcome at both these weekly events.
In the summer, come down to Poplar Hills for its famous steak nights, where you can dig in to a delcious dinner after a round of golf. For $26, you get steak and full buffet access, or you can visit the salad bar for $12. Friday is steak and golf combo night, which covers green fees for two, power cart rental and two steak dinners with salad and dessert bar included for only $100.
Green fees
(Applicable taxes are included in the prices listed below.)
Weekdays
9 holes: $21.50
18 holes: $32
Weekends and holidays
9 holes: $27
18 holes: $40
Junior golfers (under 19)
Frequent player card (valid for 15 nine-hole rounds)
Club rentals: $15
Pull carts: $4
Power carts
9 holes: $22
18 holes: $40
Driving range (tokens can be purchased in the pro shop)
Small bucket: 2 tokens for $5
Medium bucket: 3 tokens for $7.50
Large bucket: 4 tokens for $10
Hours of operation
Monday to Friday: 9 a.m. to 8 p.m.
Saturday and Sunday: 8 a.m. to 8 p.m.
Clubhouse grill hours: 4 to 8 p.m. weekdays
For more information, call 250-774-3862 or visit the Poplar Hills website.
While you're in the area...
When you aren't busy playing golf, take a day trip out to Muncho Lake Provincial Park. In addition to the serene lake, there are two lovely campgrounds here - Strawberry Flats and MacDonald, the latter of which is 11 kilometres to the north. The campsites are open from May 1st through September 15th (with full services and fees up to September 6th). The gates are closed during the off season or when snow conditions warrant it.
A hike in this park will introduce you to northern geological wonders, vivid wildflowers and various animals, such as stone sheep, cariboo and moose. Be sure to respect the local wildlife by keeping your distance and admiring them from afar.
Of course the lake entices visitors, too. While no lifeguard is on duty, you are permitted to swim and even scuba dive in some places. Canoeing and kayaking are popular, and if you have an appropriate license, you can go fishing for lake trout, arctic grayling, bull trout and whitefish.