Ripe Strawberries? Make shortcake
Biscuit-like sweet shortcake, cream and strawberries will delight your camping guests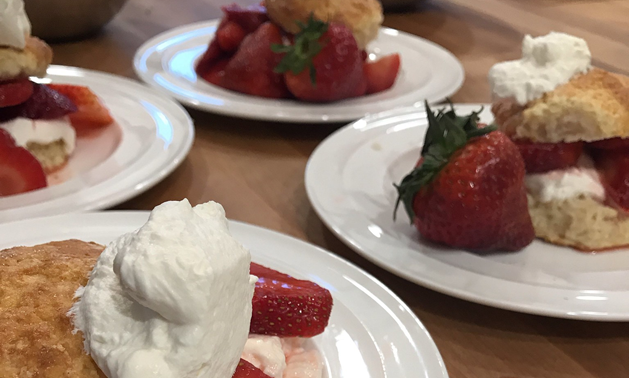 Every time we returned to the white farmhouse of my wife's Saskatchewan home, my mother-in-law, Ellen, greeted me with a hug and a kiss before the screen door slammed behind me. Ellen had a strawberry patch beside the shed where the favoured old tractor and decades of collected parts and pieces were carefully stored. Every June she would pick ice cream pails full of fresh strawberries. Sometimes we would help her pick. Occasionally there was shortbread; there was always cream.
To build on my philosophy of order-the-daily-special and drink-whatever's-on-tap when travelling, use whatever is in season when you're cooking at home. Strawberries are at the height of the season right now, and shortcake is an excellent way to showcase the berries and celebrate the arrival of summer with a special dessert treat.
This strawberry shortcake recipe is based on Ellen's biscuits with some simple additions of sugar and flavour.
Tools and equipment
Oven or dutch oven
Measuring cups and spoons
Wooden spoon
Biscuit cutter (or improvise with a soup can with both ends cut out and washed)
Baking sheet
Rolling pin (optional, you can use your hands)
Knife for slicing berries and separating biscuit tops and bottoms
Ingredients
2 cups (240 g) all-purpose flour
2 cups (240 g) cake flour
3 tablespoons (45 ml) baking powder
1 teaspoon (5 ml) baking soda
1 teaspoon (5 ml) salt
½ cup (120 ml) butter
1 tablespoon (15 ml) finely grated fresh orange peel
2 cups (500 ml) buttermilk
1 tablespoon (15 ml) vanilla extract
1 teaspoon (5 ml) orange extract
Coconut oil, butter or lard for greasing the bottom of the Dutch oven
For the whipped topping:
2 cups (240 ml) whipping cream
¼ cup (50 g) white sugar
1 teaspoon (5 ml) vanilla extract
For the strawberries:
2 pounds (900 g) strawberries, washed, stemmed and sliced
¼ cup (50 g) white sugar
1 tablespoon (15 ml) vanilla extract (or Grand Marnier)
Before baking, brush the tops with:
1 egg yolk
3 tablespoons (45 ml) cream
Method
Wash, remove stems and slice berries. Sprinkle with ¼ cup of white sugar and a tablespoon of vanilla or Grand Marnier. Let stand at room temperature to macerate.
Preheat the oven to 450 F (230 C) or get your coals lit and ready for your cast-iron Dutch oven. My Dutch oven is 12 inches (30 cm) in diameter so I use 33 coals in total: 22 on top and 11 on the bottom to achieve 450 F. (See your own Dutch oven owner's manual for specific advice.)
Measure and mix dry ingredients including the grated orange peel.
Cut chilled butter into niblet-sized chunks and rub into the flour with your hands until the mix is the texture of dry oatmeal.
Measure and add vanilla and orange extract to the buttermilk. Add buttermilk to the dry ingredients.
Stir with a few aggressive strokes to bring the soft dough together. (The less you work this, the fluffier the shortcake will be.)
Turn the whole sticky mess on a floured board; sprinkle the top with flour.
Press down the dough evenly with your palms until almost 3/4-inch (2-cm) thick (or use a rolling pin for a more even finish).
Cut rounds with a biscuit cutter, the rim of a glass or a tin can with both ends cut out.
Place rounds on a baking sheet if you're using a regular oven, or grease the bottom inside of your Dutch oven and preheat top and bottom with briquettes for five minutes before adding the biscuits.
Brush the tops of the shortcakes with a mix of 1 egg yolk and 3 tablespoons of cream.
Cook 12 to 15 minutes until caramel-coloured on top and bottom.
Remove the shortcake to a cooling rack.
Once cool, remove the top half of the shortcake and slather the bottom with cream, add a generous helping of strawberries, set the top back in place, add another glop of cream and a few more berries and serve with a whole strawberry garnish.
Every time I make strawberry shortcake, I think of that farmhouse screen door, how welcome I was made to feel there and how delicious everything was that Ellen brought to the table.
It's worth noting that these shortcakes are easy to make in your Dutch oven while camping and can be made in advance as a luxurious surprise for your fellow campers.