The Smiths are snowbirds chasing jet-fuelled dreams
Jonathan Smith burns jet fuel both when he works and plays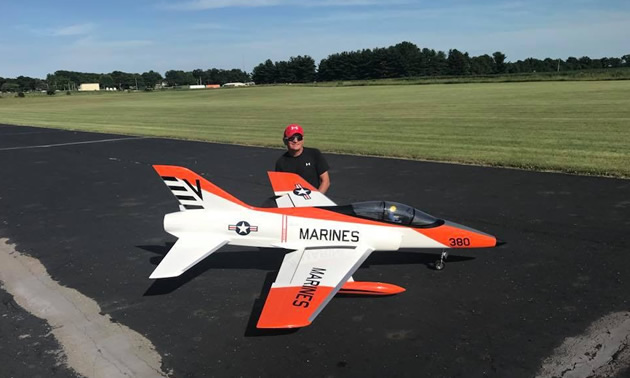 Jonathan Smith lives for jet-fuelled dreams. He earns a living flying jumbo jets internationally and flies remote-controlled (RC) model jets on his time off. Jonathan and Johanna Smith travel the U.S. a few months every year to camp in their luxury rig and fly jet turbine-powered model aircraft at meet ups across the United States. They love the weather down south and the fun folks they meet and get to know at regular events.
The Smiths' rig: the Duchess and Duke
The Smiths drive a Newmar Dutch Star diesel-pusher motorhome, made in Nappanee, Indiana. It's just over 12 metres long (40 feet) and is home for their vacation time. The Dutch Star pulls a customized ATC stacker trailer, also made in Nappanee. The diesel-pusher and trailer are nicknamed the Duchess and the Duke, respectively.
"The Duke is an all-aluminium trailer that we designed purposely to house our car, the planes and equipment. At each jet rally it's a store and a workshop. We've kitted it out to house multiple planes and associated kit, so we are ready to fly as soon as we arrive. On the road, you need parts, so we have stocks too. We try to be prepared for eventualities," said Jonathan.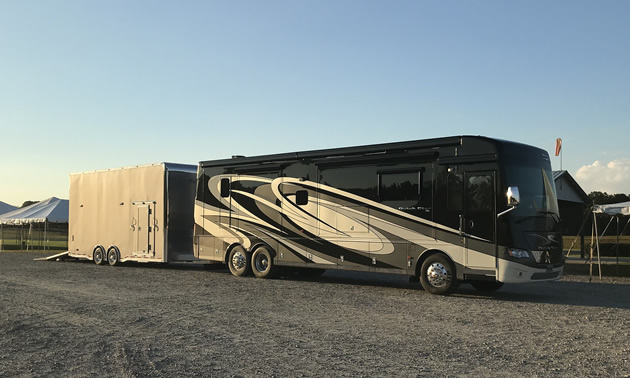 Flying runs in the family
Jonathan followed his brother, Paul, on the path to being a commercial pilot in the 1980s. Flying runs in the family with Jonathan's dad interested in RC aircraft and Jonathan's nephew an accomplished glider pilot. The Smiths lived near Crook Peak, Somerset, U.K., and a large hill of about 233 metres (760 feet), which was home to the West Mendips Radio Controlled Gliding Club. Jonathan and his dad were hooked on the first visit.
When the Smiths learned there were regular R.C. jet events in the U.S., they decided to combine snowbirding and jet flying. Johanna's requirement to attend these events was that the destination must have weather of at least 25 C. Florida qualified. They never looked back from that first event at Lake Wales Municipal Airport in Florida back in November 2001. They stayed for a week and met fellow U.K. pilots there the first year and made many friends from around the U.S.
"One particular family have become lifelong friends, and the hospitality from everyone was just amazing," said Jonathan. "After a week, we were hooked and spent many subsequent Novembers at this event. One year, around 20 Brits flew in for the event (wives and families too) and we represented about 25 per cent of the field.
"Then 9-11 happened and that meant that transporting our planes to the U.S. was less easy. So we decided to buy a U.S.-built plane and keep it in the U.S. in a lockup in Florida. We now frequent southwest Florida twice a year and enjoy the spring and autumn climate there while burning gallons of jet A fuel. We continue to meet new people and visit family who also live there."
For RC jet enthusiasts here is a full circuit of events around the U.S. from February to October each year. The Smiths maintain club memberships in Arizona, Indiana and Georgia, so they stay at camping facilities in these locations. During 2018 the Smiths have flown at Mount Pleasant, Texas, and Winamac, Indiana, and will fly at Gay, Georgia, before the end of the year.
"Winamac is our most memorable so far this year. We camped for three weeks there, among another 20-plus motorhomes," Jonathan said. "We fly, but we also support the event contest director by facilitating lunch and supper daily. So our culinary skills are also put to the test, and as Winamac is a remote location, it helps the pilots fly from dawn to dusk. The camaraderie is amazing, and whatever the weather, it's always a great event," said Jonathan.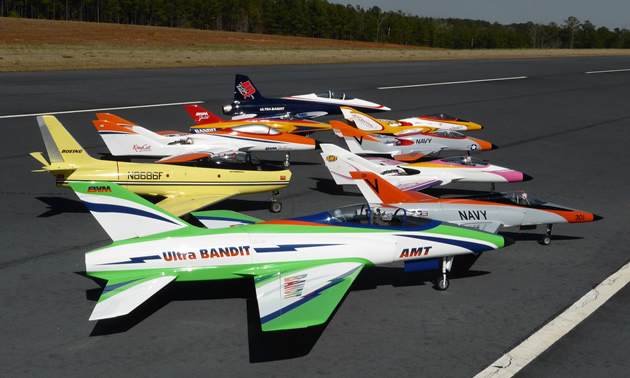 Resources for RC jet pilots
According to Jonathan, "The RC jet community is very hospitable so engaging is easy. The U.S. promotes aviation and therefore welcomes all forms of flying, and most towns have municipal airports where RC flying is welcomed. Clubs exist everywhere and support is available."
Jonathan recommends RC Universe as a comprehensive website for the RC community and it hosts much information including calendar of events for the RC Jet Rallys in the U.S. and Canada. In addition, RC Jet International is a monthly magazine specific for jets as is one called JetPower.
To fly jets in the U.S., one has to also be registered with the Academy of Model Aeronautics and must renew annually.
RVs are the perfect platform to pursue the RC hobby
The Smiths are one happy couple. "We planned for this for years and we are now fulfilling our dream," Jonathan said. "We take nothing for granted though as RC flying has to be safe and controlled to protect its existence and that's sometimes a challenge. You don't need to be a professional pilot, but you do need training and to pass a rating to fly RC planes and jets. It is an investment of time, energy and aptitude. But once mastered, it's fantastic."
Whether you fly model aircraft, fly fish for elusive brown trout, hike hills, or collect vintage wines and vintage cars, RVs provide a comfortable base from which to pursue your passion. And RVers are some of the most jet-fuelled passionate folks in the world.