Fall in love with the aurora of Alaska
Photograph the Northern Lights in all their glory
by Gail Kesslar —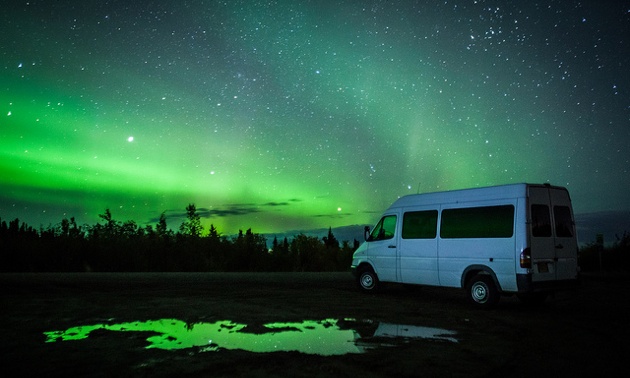 There's something magical about the aurora borealis, said photographer Ronn Murray. Despite the fact that he's been photographing them for over five years, he never gets tired of it.
"I understand the science behind them and I understand the physics very well—but they're still just so magical," said Murray. "The diversity of each night is incredible and every single night is so different. It's never the same show twice."
Murray provides photography tours to those who looking to view the aurora and another to those who wish to learn to photograph it. He said it's a very gratifying and rewarding experience to be able to watch people as they experience the Northern Lights for the very first time.
"I've had the pleasure of taking people out and checking off a bucket list item for them," said Murray. "It's a once in a lifetime experience for a lot of folks. And let's face it, most of the world will never get to see this."
A special experience
It's an experience that has had its heartwarming moments and some very sad moments, as well. One man came to Alaska in the last weeks of his life, hoping to see the aurora as his dying wish. Fortunately, said Murray, he was able to make that wish come true.
"It's easy for those of us who live here to take it for granted," he said, "but when you see how much other people appreciate it, it helps me to appreciate it more. I get goosebumps just talking about it."
To be able to see the aurora, said Murray, visitors must travel to Fairbanks in the six-month period between late August and early April. For those who don't fancy the extreme cold, the RV shoulder season in late summer and early autumn are ideal.
"I think that's the best time to be in Alaska," said Murray. "Things are a little cheaper, it's a little less crowded, and you have the best of both worlds. In September you have the beautiful fall colours and the possibility of seeing Northern Lights with open water, so you can capture their reflection. There's the opportunity of seeing a good amount of wildlife then too."
Other photo opportunities
Murray highly recommends that summer travellers visit the nearby Denali National Park for some of the best nature photography around. And a trip to the Arctic Circle, regardless of the time of year, is one of those things that should not be missed.
To be able to capture shots of some of the most amazing landscapes on the planet, Murray suggests working in a way that may be counterintuitive to your normal approach.
"Landscape photography was one of the biggest challenges of my photography career," said Murray. "It took me a really long time to figure it out, and I don't know why that is—except for the one fundamental thing I noticed as I was walking around. I noticed that for the majority of time that I am out hiking around, while I look up occasionally, I'm mostly just looking at my feet and looking at the ground. So I started to pay attention to how I saw the world, and started focusing my camera that way too."
For taking great landscape shots, said Murray, that translates into pointing your camera down instead of up at the sky.
"That's probably one of the biggest mistakes I made, and one of the biggest I see in new photographers or amateur photographers," he said. "You need to include some foreground, something close to your feet, with a mountain off in the distance so that you can get a sense of the scale of the landscape."
Lighting is critical
"Be out there during a sunrise or sunset, because there's just no better way to capture that magical landscape," said Murray. "The shadows and the highlights tell the story of the landscape, and if you're out there at noon you're not going to see it."
Murray cautions that if you're going to head out into the wild to capture those landscapes you need to be prepared for any eventuality—including bears and other dangerous wildlife.
"Personally I'm more afraid of moose than bears," said Murray, "because moose are meaner. I've had a lot more close encounters with moose than I have with bears."
Murray said the trick to a good bear shot when visiting Denali National Park is to stay at a safe distance, use a long lens and preferably shoot from the safety of a vehicle. Something that's easy to do in Alaska, where there are plenty of opportunities to see bears along the side of a road within the park.
"That doesn't mean I'm always in the safety of a vehicle," said Murray, "but when I'm not, I always carry bear spray."