Gone fishing: Fish and camp in under three-hour's drive from Edmonton
Six excellent Alberta lakes to wet your line with good prospects for shore lunch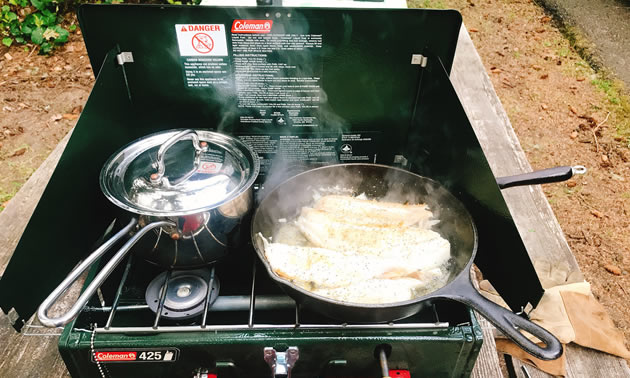 Albertans like to camp and fish. According to My Wild Alberta, 294,037 fishing licences were sold to Alberta residents in 2017 and 31,233 walleye draws were submitted. If you live in Edmonton, there is excellent fishing within a couple of hours' drive.
Before you make your fishing plans, pick up a copy of Barry Mitchell's Alberta Fishing Guide in addition to your licences and Alberta Regulations. Mitchell's guide is a tremendous resource of detailed information about what you can expect from each lake and river in Alberta and provides helpful information for novice fishers and old hands alike.
Drive, fish, camp
There's plenty of combined fishing and camping opportunities within half a day's drive of Edmonton, but you don't need to leave the city of Edmonton for good fishing. The North Saskatchewan River offers a tremendous variety of fish from northern pike and walleye to whitefish and goldeye. Cast near outflows from the riverbank to catch pike, suckers and walleye.
If you choose to drive, my all-time favourite is a Lac la Biche area with plenty of camping and multiple fishing opportunities––and more lakes than you can count on fingers of both hands.
Albertans draw for walleye tags
Based on Alberta's walleye draw information, Lac Ste. Anne, Pigeon Lake, Gull Lake, Lac la Biche, Pinehurst Lake and Moose Lake are your best bet to draw a tag for the largest class of walleye. All of these lakes offer excellent fishing and are less than half a day's drive of Edmonton, and all have good provincial park campgrounds. But remember, walleye are a desirable target and some of the tags at more popular lakes take several years to access.
The closest walleye draw lake is Lac St. Anne, up Highway 43 from Edmonton just 45 minutes west of St. Albert. Lac Ste. Anne has been a source for whitefish since the 1800s when Fort Edmonton made a deal with locals to supply fish. Lac Ste. Anne is a good location for a day trip.
Pigeon Lake Provincial Park is just over an hour's drive at 107 kilometres from Edmonton and has 261 campsites. Campers at Pigeon Lake get access to an exclusive inside-the-campground boat launch which is a plus on busy boat days. Zeiner, the smaller campground on the west of the lake, has 132 sites including walk-in tent sites. There is no boat launch at Zeiner, so boaters need to drive a short distance to launch.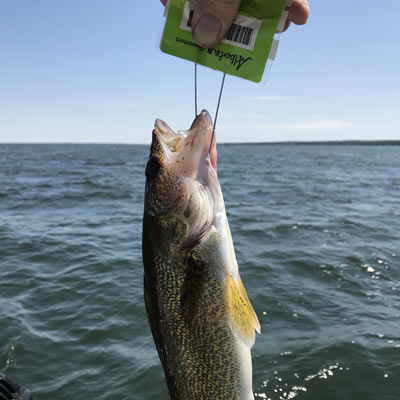 Barry Mitchell's Guide to Alberta Fishing lists Pigeon Lake's assets: northern pike to 4.5 kilograms (10 pounds), walleye to 2.7 kilograms (6 pounds), perch to 450 grams (1 pound) and whitefish to 3.6 kilograms (8 pounds).
Gull Lake is an hour and 30 minutes from the centre of Edmonton and features two campgrounds, Brewers (300 sites) and Lakeview (255 sites), in addition to three group sites totalling 130 camping spots.
Lac la Biche is nearly three hour's drive from Edmonton and Pinehurst is about the same. Lac la Biche has a couple of campgrounds but my favourite is Sir Winston Churchill because it is located on an old-growth birch island and is home to a wonderful variety of birds. Sir Winston Churchill has 72 sites. While there are several lakes near Lac la Biche, this lake offers tags for walleye and some excellent northern pike fishing. Pinehurst Lake is a bit of the way off the highway but worth the trip. Alberta Parks recommends bringing your own drinking water to this site. Pinehurst has a OHV staging area outside of the park that gives riders access to the trails in the provincial recreation area around the lake.
Moose Lake is a 261-kilometre drive, just short of three hours from downtown Edmonton, and is near Bonnyville, Alberta. The lake is surrounded by jack pine forest. Moose Lake Campground has 59 sites and Franchere Bay has 198 campsites.
Alberta has excellent fishing opportunities throughout the province with good camping near most of the lakes. There are a collection of RV enthusiasts that exclusively camp for the purpose of fishing. You will find many of them fishing successfully at these lakes.