Blueberry Bluegrass Festival is August long weekend
Blueberry Bluegrass Festival is a three-day musical feast in Stony Plain, Alberta
The Blueberry Bluegrass Festival in Stony Plain, Alberta, is a musical feast that is happening again this year on August 2 to 4, 2019, which is the August long weekend. Think of the weekend as an extended musical potluck––farmhand-sized helpings of delicious music, lovingly prepared by musical masters and served up fresh to hungry bluegrass hounds.
Anna Somerville, singer, songwriter and president of the Blueberry Bluegrass Festival, said, "Bluegrass is a user-friendly, interactive-style of music. It's got a strong tradition of including audience participation."
Musicians like to attend bluegrass festivals because of the blend of onstage performance and off-stage jamming and workshops with fans. The band comes off stage and moves to a jamming tent, then people come and play with the folks they just saw on stage. If this were a culinary event, you'd watch top-tier chefs prepare fresh and organic delights for your mutual pleasure, and then sit and teach you how to master a particular technique to deliver a distinct flavour.
This tradition is very satisfying for both the players and the participants.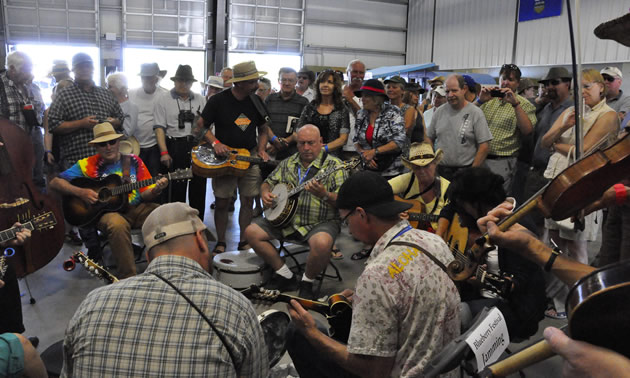 What is bluegrass?
Traditional bluegrass music is often credited to Bill Monroe, who got the mountain music rolling back in the 1940s with his band The Blue Grass Boys. The musical style relies on stringed acoustic instruments, including, guitar, fiddle, mandolin, banjo and bass. More recently, other instruments—such as dobro, accordion, harmonica, piano, autoharp, drums and electric guitar—are showcased. It is an easy-going three-part harmony sing-along kind of music.
"Bluegrass is collaborative," Somerville said. "You can't make bluegrass music alone. You have to all take turns. There is no star. Everybody joins a circle. It is inclusive. It is touchable. People who are listening want to join the circle."
Bluegrass is more about giving stellar musicians a platform than promoting big-name headliners. It is a niche music style where younger players often come from jazz or classical roots. These fresh faces are drawn in by the collaborative nature of bluegrass and how it is played, taught and shared.
Bluegrass musicians strive to make a song better by taking a traditional song and improving it by adding their skill and creativity. "It's really an unselfish form of music," said Somerville.
Music and so much more
The Blueberry Bluegrass Festival is a family-friendly musical feast. Kids can enjoy a petting zoo and lawn games or join in the puppet-making workshop and stay to be entertained by the puppet show that follows. A magician, face painter and balloon twister will all be on site to help entertain children. For kids who want to strum along, ukuleles will be provided for a ukulele strum-along.
Join pre-festival events starting July 31, 2019, with a concert at Shikoai Park in Stony Plain or join the Northern Bluegrass Circle Music Society's Bluegrass 101 jam session at the festival park. On August 1, you can build a cigar-box guitar, take the town's mural tour and join in the evening concert. August 2 features workshops throughout the day for mandolin, banjo and guitar.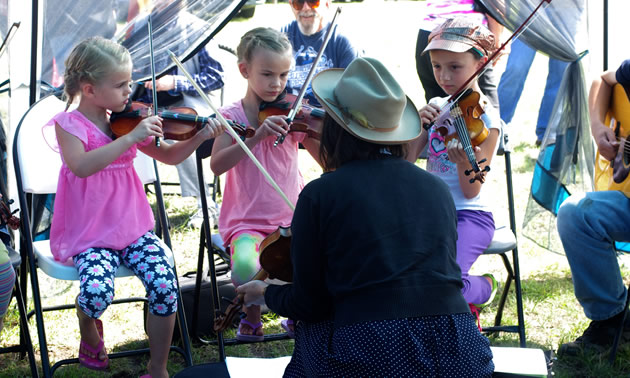 Unserviced camping spots are available on a package deal that includes entrance to the festival. Rigs can be set up starting on Tuesday, July 30. Book your RV spot here: https://blueberrybluegrass.com/camp.
Remember to bring your fiddle, guitar, mandolin and voice and prepare to join the circle. Check out the market vendors in the Pavillion, and grab a snack or a full meal from one the food trucks in the fleet of kitchens on wheels.
The Blueberry Bluegrass Festival is shaping up to be an extended long weekend of musical feasting fun for the whole family.