Eat well at Mile O of the Alaska Highway
Dawson Creek was built on agriculture
by DaleAnn Shellborn —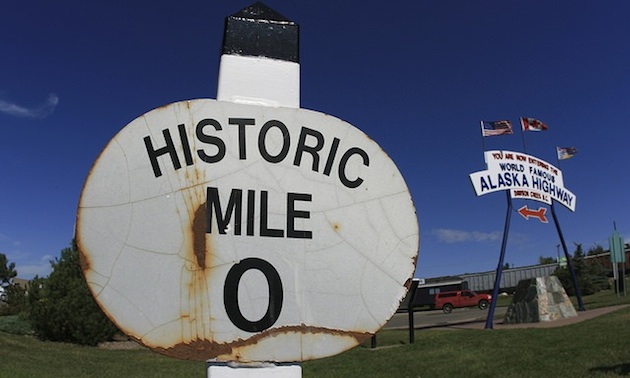 RVers often stop in Dawson Creek at the beginning of their Alaska Highway odyssey. The rich soil of the Peace River district and the long, sunny summer of northern latitudes brought settlers here to grow wheat, oats, canola and other crops. We've told you about the local produce available at the impressive Dawson Creek Farmers Market and we've told you about the historical grain elevator used as an art gallery. Now here is a list of three of the eateries favoured by the locals.
Stuie's Diner, 10516 8th Street (Highway 2): This shiny chrome 1950s-style diner serves up the best burgers, fries and homemade cherry pies in town. Locals love it and many RVers will get a kick out of the rock-and-roll memorabilia decorating the place. If you like Elvis, you'll love Stuie's Diner. Why not sit up to the counter and drink an ice cold Coca-Cola in a glass bottle, or indulge in a root beer float? Breakfast is served until 11 a.m. every day.
Mile 0 Pizza & Pasta, 936 102nd Avenue: After you have a look at the Alaska Highway House museum, take a few steps over to this homegrown pizza place. It's a fairly new venture in Dawson Creek and does a booming business in saucy, cheesy take-out. You can also order salad, donairs, wings or baked pasta.
Fixx Urban Grill, 512 Highway 2: This restaurant is located in an area of hotels and big box stores and doesn't look especially impressive from the outside. But the well-designed logo invites diners in to try an original menu served alongside some creative cocktails. Locals say this is the go-to eatery for a romantic date night.