Dawson Creek's grain-growing heritage is reflected in its art gallery
The Peace River region is B.C.'s breadbasket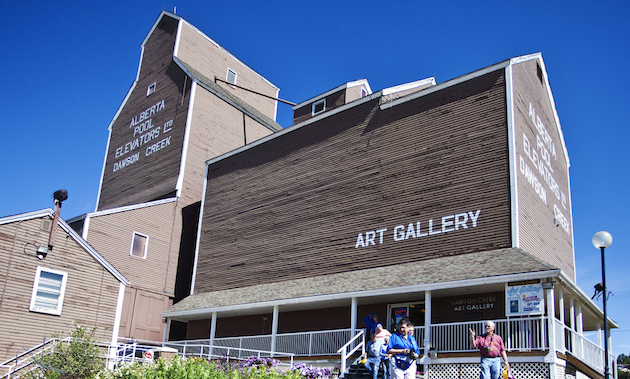 When you think of grain, images of golden wheat fields growing in the Canadian Prairie provinces may come to mind, but the city of Dawson Creek in northeastern British Columbia's Peace River region also has a glowing history of grain production. In fact, the Dawson Creek Art Gallery is located in a renovated grain elevator.
In the 1920s and 1930s, northeastern B.C. was opened up by agriculture, and by the late 1940s, the community of Dawson Creek had grown to become a productive grain-producing and -shipping area with 13 wooden grain elevators being constructed.
"The town has been agriculturally based since its inception," said Kit Fast, curator of the Dawson Creek Art Gallery. "When Dawson Creek was established, we had grain elevators, much like Prairie towns, down the main strip of the Alaska Highway. A lot of the grain that was produced in this area was shipped to international markets."
A place of prominence
By the 1960s, however, improved technology meant that the wooden structures were being replaced by larger, more modern elevators, Fast said.
"The elevators were all being torn down," he said. "To preserve our heritage and history, members in the community—the chamber of commerce, the City, the Dawson Creek Art Society and others—got together and purchased a grain elevator for next to nothing and turned it into a gallery."
This grain elevator was acquired by the City in 1982 from the Alberta Wheat Pool for the cost of $1. By 1983, the 65,000-bushel annex, scale house and office were relocated to Dawson Creek's Heritage Park and renovated to house the art gallery. The main elevator facility attached to the annex was set up with information panels relating to the operation of a prairie grain elevator, and the endeavour earned the gallery a Heritage of Canada Foundation Award of Merit.
Inspired by the surroundings
Today, the Peace River region still accounts for 90 per cent of the province's total grain production, and according to Fast, "the transformation of unsettled land to the familiar grid of farmland is reflected in many members' exhibits."
Fast said that the gallery hosts 10 or 11 exhibits per year, with works by local and nationally recognized artists.
Marking a milestone
"This year will also mark the 30th anniversary of the gallery being in the elevator," he said. "The wrap-up is a 30th anniversary exhibit September 16 to October 12 to celebrate 30 years of creativity in Dawson Creek. The exhibit will have artists from youngest to oldest, from local to national, and will pay tribute to our founding members."
And to complete the whole grain experience in Dawson Creek, Fast suggested beginning or ending your visit with a stop at the Old Fashioned Bakery down the street from the art gallery.
"Cinnamon buns are recommended," he said.