Dance in the land of the midnight sun
Visit the home of gold rush legends and listen to legendary music
by Tanya Laing Gahr —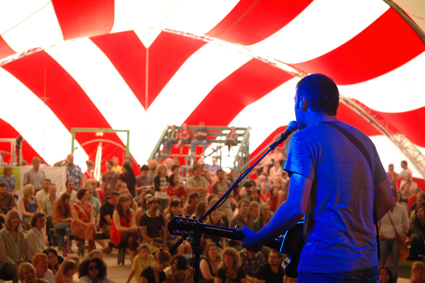 There's something about the gold rush town of Dawson City that kind of gets to the heart of things. It speaks of the best and worst of human beings—what we will do for material gain but also how we can feed our souls and survive almost anything. People are both down to earth and extraordinary here, I've found. I think you'll find the same.
When you arrive in Dawson City, you notice many things. One, it's awfully small for something with "city" in its moniker. Two, there are wormlike tailings all along the Klondike River from when gold dredges used to tear up the riverbed in search of the precious metal. Three, there are modern touches everywhere but the historic buildings, boardwalks and dirt roads can often make it feel like time is standing still. Four, there's a lot of spirit in this former ghost town.
During my all-too-brief visit to Dawson City, I had a pint or two in a little pub on an evening that never quite got dark and watched as two fiddle players tore it up in a battle of the strings while the patrons whooped and stomped and danced along. In fact, I saw some of the finest step dancing I've ever seen in my life. Grins were plastered on every face, including that of the server who was milling between groups of customers with a tray loaded down with beer mugs.
This is a town, in other words, that knows how to let its hair down and enjoy the finer things: music, friends and dancing until the sun goes down—which is next to never in the summer. The Dawson City Music Festival is just one of the many highlights of the season. For three days, from July 15 to 17, Canadian music legends and rising stars will sing their hearts out in this unbelievable setting. The festival has been described by the Georgia Straight as "Canada's tiny, perfect festival." All that's left to do is follow the North Star, and beat the rush.