The rich heritage of Blairmore
The Crowsnest Pass includes the town of Blairmore and four other municipalities
by Lisa Crane —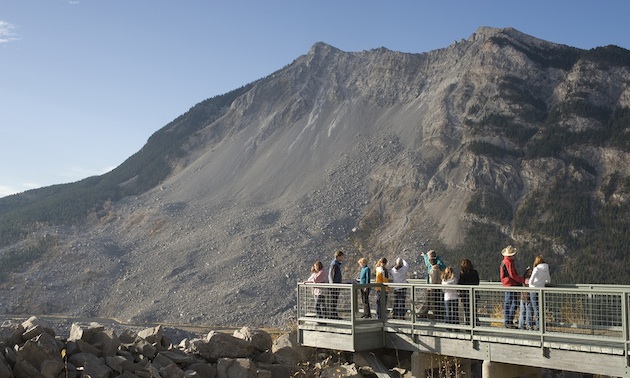 The Frank Slide Interpretive Centre gives the who, what, where, when and how of the 1903 Frank Slide disaster in the Crowsnest Pass area of Alberta. When the side of Turtle Mountain collapsed, it caused the tragic deaths of 70 people.
Frank slide
Monica Field is the area manager for the Frank Slide Interpretive Centre and she is definitely up-to-date with the area's cultural attractions. She has worked at the centre since 1983 and has been with the Alberta culture department for 31 years.
"The centre was intended to interpret the history of resource extraction," said Field, "but because it was located on a knoll with an excellent view of the Frank Slide, and named after it, the focus was changed."
Field said that the centre focuses on the Frank Slide but also examines the Crowsnest Pass area going back to ancient times, giving a detailed overview of the heritage of the region.
The municipality of Crowsnest Pass
The Crowsnest area includes the town of Blairmore and four other municipalities. Blairmore has an interesting past and well worth a visit. Its claim to fame is the fact that it fostered Canada's first Communist town council and school board in 1933, a decision that was reversed soon after. It used to be a Canadian Pacific Railway stop and is now the commercial centre of Crowsnest Pass. Visitors can enjoy exploring old buildings, and the the Pass Powderkeg ski hill is right in the town of Blairmore.
The area is also home to the Leitch Collieries Provincial Historic Site and the Bellevue Underground Mine Tour. The infamous Hillcrest Mine Disaster occurred in the nearby town of Hillcrest. Most of the miners are in the town's cemetery, and the story of the worst mining disaster in Canada's history is chilling.
"The Leitch Collieries is where there was a very sophisticated early coal mine and is a little bit east of the Frank Slide, not far from the Burmis Tree," said Field.
That tree is a 300-year-old dead limber pine that has been preserved by the locals. It lleans heavily to the east and is an important landmark, thought to watch over the area.
Field said that the Crowsnest Pass, an amalgamation of the towns of Blairmore, Hillcrest, Bellevue, Frank and Coleman, holds a fascinating past, and the towns each have their own attractions. Visit the Crowsnest municipality website for more information.