Learning from the past
The Frank Slide site is an educational and historical focal point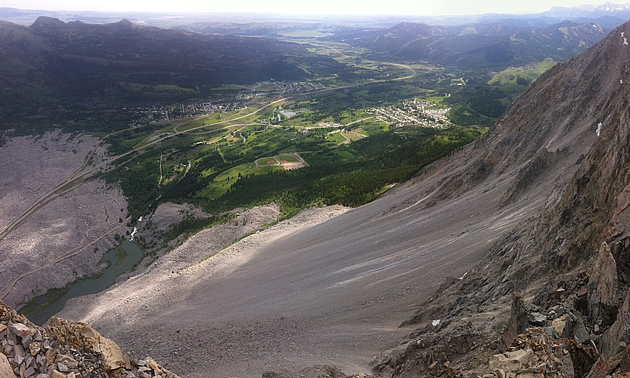 April 29th, 1903, was a fateful date for the people of Frank—a small coal-mining town that is now an intriguing part of Crowsnest Pass history.
On that legendary night, a cascade of rock plummeted down from Turtle Mountain in a catastrophic natural disaster that would partially bury the town and make the area world famous. Today, you can visit the site of the massive rock slide, and Frank Slide Interpretive Centre provides plenty of engaging ways to learn about this tragic event.
"The Frank Slide is Canada's deadliest—even North America's deadliest—rock slide," said Monica Field, area manager of the Frank Slide Interpretive Centre. "The sheer size of the debris field is awesome, but more sobering is the fact that nearly 100 people died."
A central point in any Crowsnest Pass tour, this well-known centre is located 1.5 kilometres off Highway 3. It benefits the area greatly due to the large number of people that come to see it each year. Between the spending that occurs at local businesses and the employment boost that results, it's easy to see why this site is such an important part of the local economy.
"Millions of dollars have come to the Crowsnest Pass because of the (interpretive centre's) existence—it is a big attraction," said Field.
An accredited Travel Alberta Visitor Information Centre, the Frank Slide Interpretive Centre offers a wealth of information. Visitors can find out why Turtle Mountain came down, and whether there is any risk of a future occurrence. The centre has a high-definition theatre that seats 70 guests, and shows two audiovisual presentations at various times throughout the day. These features not only recreate the night of the rock slide, but also give viewers a lesson on Crowsnest Pass history—including such topics as coal mining, immigration and rum running.
The centre boasts four galleries, illustrating the effect of the Frank Slide, the community before, during and after, and the memories of those who survived it. There is a science centre that gives detailed information on how the slide happened and the potential role that the local mining operations could have played.
In the fourth gallery, there is an activity area and interactive tools, such as a gigantic three-dimensional map, as well as kiosks where you can read about some of the most dramatic stories from various Pass communities.
You can also get a closer look by walking along a 1.5-kilometre trail that winds its way through the debris of the Frank Slide and gives a firsthand view of the destruction that took place.