Guests are mesmerized by Frank Slide
This Crowsnest Pass attraction is the site of a famous natural disaster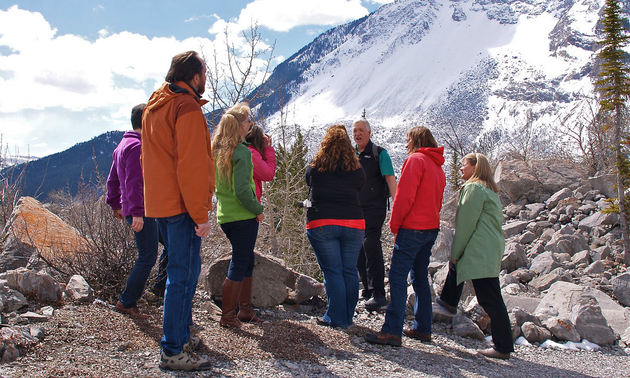 If you're one of the many RVers who travels through the Crowsnest Pass, Alberta, you likely noticed one of the area's most profound claims to fame. The Frank Slide site is an important part of local history, due to the fact that Canada's deadliest rock slide took place there.
Frank was the name of a small coal-mining town, which was thriving up until one fateful day - April 29th, 1903 - when a thunderous cascade of rock came down from Turtle Mountain. The rock slide partially buried the town, and killed nearly 100 people in the process. A massive field of debris was left in its wake, the remnants of which can still be seen today.
Stop and explore
Instead of simply driving past, we recommend you stop at the Frank Slide Interpretive Centre. You will be glad you did - there is so much more to this historic event than first meets the eye.
The centre is located 1.5 kilometres off Highway 3, and provides guests with a number of different ways to learn about Frank Slide. It is an accredited Travel Alberta Visitor Information Centre, and boasts a high-definition theatre that seats 70 people. You can watch two different audiovisual presentations, which are shown at various times throughout the day.
Visitors can come here to learn about general Crowsnest Pass history (such as coal mining, immigration and even rum-running). They can also find out why the famous rock slide happened, and whether or not it's likely to happen again in the near future. Peruse the centre's four galleries, which illustrate the effect of the slide and show the community before, during and after - and read the stories told by those who miraculously survived it. Check out the three-dimensional map in the fourth gallery's activity area, and read engaging local stories at the kiosks.
There are dramatic vignettes, guided walks and other interpretive programs available, as well. If you prefer to take a walk on your own, there is a 1.5-kilometre trail that winds its way through the debris of Frank Slide and gives hikers a firsthand look at the destruction that took place.