Witness wonderful wildlife
Catch Creston Valley critters at these world-class wetlands
by Glynis Fediuk —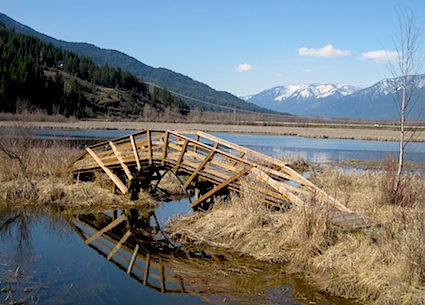 I recently stopped at the Creston Valley Wildlife Management Area (CVWMA) to take a few pictures. Though it was a public holiday, there were still several cars parked outside the wildlife interpretation centre and human voices could be heard amidst birdsong. From the moment I arrived, it was easy to see why people would flock to the CVWMA. Regardless of the day, there is always something to do or see here.
Within seconds of parking my car, I spotted a great blue heron as it landed nearby and red-winged blackbirds at a birdfeeder. More than 300 bird species are found in the CVWMA; ducks, swans, grebes and geese can be seen floating, while osprey soar overhead. The area is vital to migrating birds such as the tundra swan and is also home to a wide variety of cold-blooded creatures.
The interpretation centre has naturalists on staff ready to answer questions. This is the place to pick up a trail map, inquire about canoeing ventures and learn about the impressive variety of fauna. There are several displays and there is a family-friendly feel to the centre.
Fans of the foot train will be glad to know there are a number of hiking options. Whether a stroll along a boardwalk or a day-long exploration of the wetlands suits your fancy, there is a pathway that will appeal. Whichever you choose, don't forget to include a camera.
In my brief stay at the wetlands, this stiletto fan made it a goal to return to the area—in appropriate shoes—so that I could spend a day exploring the many kilometres of trails. The CVWMA certainly hasn't seen the last of me.
The wildlife interpretation centre opened for the season on May 10, 2011; find out more on the CVWMA's website.