Pursue history, activities and art in Chemainus
Take in Chemainus's history and enjoy some of the many recreational and leisure activities in this little waterfront town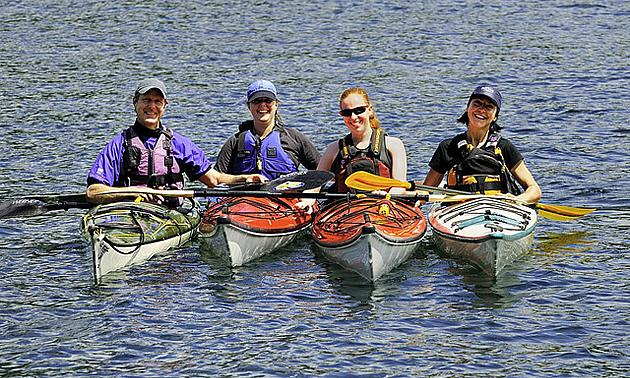 Chemainus is an oceanside treasure. The town of 3,900 can be reached by taking two quick turns off of the Trans Canada Highway just north of Duncan, midway between Victoria and Nanaimo—but if it weren't for the signage celebrating "Word Famous Chemainus Murals," it would be easy to pass the little township by.
The downtown is quaint, with tiny shops offering handmade art, candy, toys and clothing; homegrown flavours cooking up in signature cafes and restaurants, and the Island's finest talent bringing life to the stage in the Chemainus theatre. Nearby Country Maples RV Resort and Chemainus Garden Holiday Resort offer the area's best full-service short- and long-term RV vacations.
Chemainus murals
The Chemainus murals are the town's claim to worldly fame, because of their fantastic artistry and also because of the way their creation revitalized the town. The idea to record the town's history in outdoor murals was developed by a forward-thinking mayor in response to the 1980s recession. Since turning the community around they have inspired others all over the world to explore their roots, beautify their towns, and create a sense of belonging and ownership among their residents. Each mural is accompanied by historical notes, making self-guided tours an easy task.
Biking and hiking
Chemainus and the Cowichan Valley offer biking and hiking trails for any age and skill level. Mount Tzouhalem is a well-known landmark overlooking Cowichan Bay and Quamichan Lake in the Municipality of North Cowichan just 20 kilometres from Chemainus. Bikers, hikers and equestrians use more than 4.5 kilometres of roads and an undetermined amount of informal trails created by recreationists. The municipality has created one short trail to the Mt. Tzouhalem Ecological Reserve. The reserve protects one of the best examples of a Garry oak woodland and wildflower meadows in the province. Visit in April for the loveliest flower display.
Maple Mountain offers walkers, hikers and mountain bikers 14 kilometres of well-maintained trails along with countless others built by enthusiasts. The view from Maple Mountain overlooking Maple Bay, Crofton and Sansum Narrows is unbelievable. The hike is worth packing a picnic lunch and making more than one trip to cover more trails.
A complete list of hiking and biking trails in the Chemainus and Cowichan Valley regions is available from North Cowichan Regional District.
Take a golfing vacation
A trip to Vancouver Island could easily become a golfing holiday. Mount Brenton Golf Course in Chemainus has been in operation since 1948. This scenic course includes creeks and ponds among towering fir trees. Every level of golfer will appreciate the challenge on this one-of-a-kind course.
Arbutus Ridge Golf & Country Club is rated the number one destination golf course in B.C. by Golf Nerve magazine. The Cobble Hill facility is located 10 minutes north of Duncan in the heart of Cowichan wine country. Three of the most demanding finishing golf holes on Vancouver Island can be found here, along with the knee-rattling 214-yard par three island green on the 17th hole.
Cowichan Golf and Country Club is the kind of semi-private, 18-hole wonder that avid golfers feel lucky to find when vacationing on a golf trip. Challenging holes, great service and gorgeous views out to the mountains and waters at Cowichan Bay are an irresistible treat. Boasting the toughest par four on Vancouver Island, the eleventh hole is an 404-yarder for which players have to conquer a ravine, a tricky out-of-bounds zone and enormous trees along the right edge.
Marine charters
Whether its West Coast wildlife or a guided history and art tour you seek, Chemainus Water Taxi has a trip to suit you. Sight-seeing charters take visitors on guided bird watching tours, to watch sea lions laze about in the sun, and even to go orca spotting around the Gulf Islands.
Take in art, shops and the history of the Gulf Islands with Thestis Island's Telegraph Harbour just minutes from Chemainus, Gabriola Island's Silva and Degnen Bays to the north, and Galiano and Salt Spring Island to the south. Decourcy Island has a fascinating past as the site of the infamous Brother Twelve Colony.
Kayaking is a favourite in this area as the Gulf Islands offer quiet, protected waters, warm and inviting beaches, and enough variety in shopping and accommodation to suit any preference. Chemainus Water Taxi will transport kayaks for an added convenience.