Fintastic fun
An unforgettable marine excursion
by Kali Love —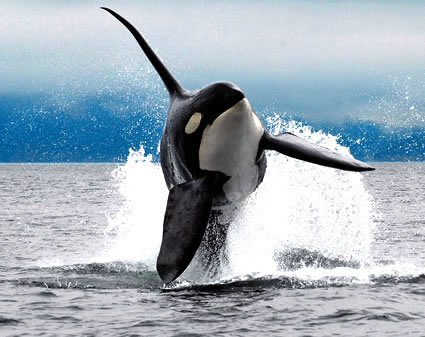 Vancouver Island has an amazing coastline with endless stretches of plant and animal habitat. One of the most popular things to do off the coast is whale-watching.
Simon Pidcock is the owner and operator of Ocean Ecoventures, a company that offers whale-watching excursions; these depart daily from Cowichan Bay—a 40-minute drive from Nanaimo and a 25-minute drive from Chemainus. Pidcock, who is also the vice-president of the Pacific Whale Watch Association for Vancouver Island, said his passion for the sea has led to his career.
"The movement of the whales really interests me," said Pidcock. "They prove us wrong all of the time, but there are some general patterns that they do follow."
Following the path
While the prime whale watching months are from April to October, Pidcock said that in spring and summer, he knows where the whales will be. And, although it's a rare occurrence, if people do not get to see a whale on their excursion with Ocean Ecoventures, Pidcock will offer a complimentary whale-watching trip on a standby basis. However, about 97 per cent of the time, people on the tours will observe whales and other sea life.
"Whale-wise, we see orca whales," said Pidcock. "There are two types that we primarily view: one is the southern resident orca whales…and there are transient orca whales that travel between southeast Alaska and southern California. Then there are humpback whales, gray whales, seals, sea lions, a lot of birdlife—eagles, diving birds, shorebirds—porpoises."
Pidcock is part of a large spawning network that collaboratively works on visual whale spotting, which has given him insight into where the whales will be.
"It is all visual-based spotting and there are no tracking devices on the whales," said Pidcock. "We hear (where the whales are) from fishermen, float plane pilots, ferry captains and people who live on the shoreline."
Resources: www.oceanecoventures.com