In the air in Casa Grande
At SkyVenture Arizona, you can experience flying without jumping from an airplane
by Dan Williams —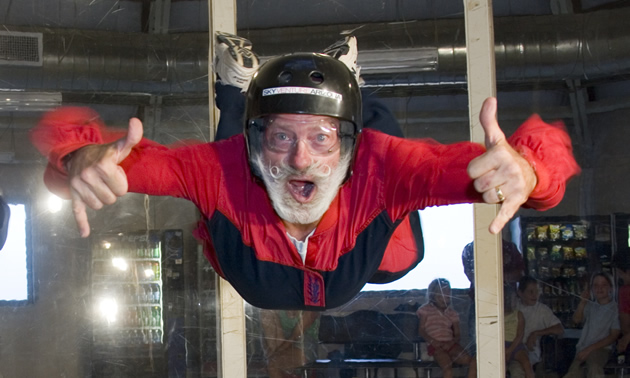 When you are in the Casa Grande area and you are looking for something really different to do, check out SkyVenture Arizona.
Regardless of your age—whether you are three or 93—or your fear of heights or the possibility of air-sickness, you needn't worry. SkyVenture Arizona has the perfect activity that will allow you to fly without tandems, ropes or wires, and you don't need to jump out of an airplane.
SkyVenture is an indoor skydiving facility where you actually fly in complete safety. There is no sensation of falling and no experience is necessary. You are literally flying in a wind tunnel that simulates free fall up to 150 miles per hour. Your experience will include a training session, the required safety gear, a souvenir T-shirt and, if you like, a DVD of your flight.
SkyVenture Arizona opened in 2005 and has become a very popular destination. The world's largest skydiving drop zone, SkyDive Arizona, is adjacent to SkyVenture, if you feel the need to actually step up and out of an airplane.
The tunnel is used for amusement, skydiving practice and military training. The tunnel can squeeze in up to six flyers, although groups of four are recommended.
SkyVenture Arizona actually has a week in January each year that they call the Canadian Invasion. A large group of skydivers spend their time using the tunnel for practice, then move over to SkyDive Arizona for the real thing; it is all contained on the same property.
Annette Hill, the company's office manager, said that people are initially timid about the experience on the first attempt, but then they come back for more.
"I feel like I'm selling a legal drug," Hill laughed. "They'll book five minutes, go upstairs, then come back with their credit card in hand asking to get five more minutes. Each time, their voice gets quieter."
Hill said spectators are welcome, and she suggests calling ahead first to make sure that the facility is open and not reserved for military training.