The Calgary brewery guide
"It takes a village to raise a beer"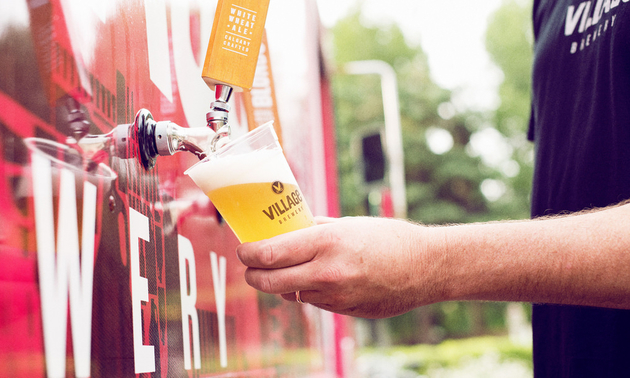 Village Brewery opened in 2011 with the goal of creating a community around its beer. Now, anyone who visits Village for a tour or a pint hears the story of the beer, but also the story of the brewery within the community of Calgary. Part of the Village experience is experiencing Village's community.
"A big part of the brewery is creating an experience that represents what Village is all about," said Eric Daponte, marketing and taproom co-ordinator at Village. "Yes, we make really good beer, but a lot of it is our community initiatives."
Village's community initiatives include fundraisers and sponsorships of local organizations, artists and craftspeople. For example, its taproom doubles as an art gallery, rotating through local artists every two months. Also, local artists are commissioned to create labels for the seasonal batches a few times each year. The brewery donates 10 per cent of its bottom line throughout the year.
"We try to find avenues to promote artists within the city to promote a sense of community in any way we can," said Daponte.
Its fundraisers aren't just for artists, though. Each year, Village produces a stampede brew. The special brew is topped with bull testicles and sold for $100 a pint. All proceeds are donated to the Calgary Prostate Cancer Centre.
"Over the five years we've been doing that we've raised about $50,000," Daponte said.
Meet Village's beer
Village's beer is brewed from experience.
"There are six partners, and they all hail from the brewery industry," said Daponte.
The combined experience of Village Brewery's partners equates to about 150 years of brewery experience, whether in marketing or business, or as brew masters. This wealth of knowledge produces beers that Albertans can't get enough of. Village has six full-time brews on its current roster: Blonde, Wit, Blacksmith, Squeeze, Neighbour and Beachcomber. They also brew a winter and summer beer that are in stock for about six months each, and four or five single-serve "bombers," about 1,200 bottles each.
Community beer made from local ingredients
Village sources local wherever possible.
"Any chance we get we try to source local ingredients," said Daponte. "The prairies have some of the best barley in the world, so most of our malt comes from Alberta."
The ingredients for the seasonal Gardener beer are grown even closer to home. Village Brewery gave hops to community gardens to plant over the past four years. Each September, Village harvests the hops to make its Gardener.
"That's a 100-kilometre beer. It's made from 100 per cent malted barley from Alberta, plus the hops from the backyards," said Daponte.
Another local example is the Village Monk, a chai winter porter with a fresh batch made every Christmas. The chai is purchased from Silk Road, a spice merchant in the Inglewood neighbourhood of Calgary. Also, the full-time Squeeze is made from raspberry puree sourced from British Columbia.
"It's all about being local," said Daponte. "People want to enjoy local beer with local ingredients."
Characters in the village
Every beer that Village produces somehow ties to roots within its team or the local community.
"We try to characterize every beer as a character in the village," said Daponte.
The Blonde represents a partner's mother; the Wit, a grandfather.
"People connect with the beer when there is the character aspect behind it," he said.
This year's winter beer is the Village Bobby.
"It's a U.K.-style brown. It has the coffee and malted notes to it," Daponte said, "a big winter warmer."
The character behind the Village Bobby is a man named Alastair Smart.
"He was the original salesperson for Big Rock, so he was the original craft beer salesman in Alberta," said Daponte.
He came from the U.K., where he was a police officer. The label is a photo of him in his old uniform. Try the Village Bobby from September 2017 through about March 2018.
Village friends
Village Brewery—keeping with its community values—works with newcomer brewmasters every year. They collaborate with a fledgling brewery to create a limited-edition beer, calling it the Village Friend.
"It's usually a crazy style that you don't really see with high alcohol content and lots of flavours," said Daponte. "It's one of the more adventurous beers we make throughout the year."
The proceeds from the batch are given to the younger brewery to go towards new brewing equipment. The Dandy Brewing Company and Banded Peak were the first two newbies that Village took under its wing.
Dandy is Alberta's first, and currently only, nano-brewery. Dandy brews very small batches, but of high quality. Old friends reunited as brewmasters and business owners; they call themselves The Dandies.
They might be new on the scene, but "they are making some of the best beer in Calgary," said Daponte. Their cozy taproom seats about 20.
Just over a year old, Banded Peak harnesses the adventures of their namesake mountain in Kananaskis Country and pours it into their hoppy ales.
"They are very adventure-oriented," Daponte said.
Their core beers are named to match their adventurous vibe: Chinook Saison, Plainsbreaker, Summit Seeker and Southern Aspect. Their unfiltered beer has become a fast favourite in the city.
Annex Ales opened in May 2017. It produces a new beer each month. Many are high-percentage-alcohol India pale ales—something that Calgary doesn't see much of right now.
"They have a beautiful taproom that brings a Vancouver, Pacific Northwest vibe to the beer scene in Calgary, which we haven't seen here yet," Daponte said. "They are carving out their name here in Calgary."
Annex Ales is not part of the Village Friends program, but they are one of the newest members to Calgary's brewing community and close to Village's origins. Their brewmaster is Village's past head brewer.