Towns linked by heritage
From heritage parks to the arts, Wells and Barkerville have unique and varied backgrounds.
by Kali Love —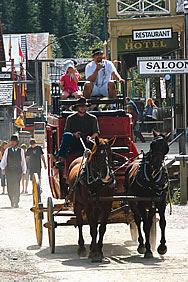 Barkerville and Wells are both communities that formed because of the gold rush in the 1860s. While both share a riveting and interesting history, today they are very different—Barkerville is a ghost town turned heritage park while Wells continued to thrive and is now a community that caters to both tourism and the arts.
Jason Griffin, the economic development officer for the town of Wells, said Barkerville had its heyday from the 1860s to 1870s and then faded into a ghost town in the early 1900s.
"Barkerville was a gold rush town from the 1860s," said Griffin. "The people were following the gold up from the Fraser River and finally got to its source in Barkerville where there were a number of mining operations happening all over … then it sort of dwindled down until 1958 when the province turned Barkerville into a heritage park and now it is a preserved heritage site."
Wells, on the other hand, prospered as a hard rock mining operation during the Depression under the direction of Fred Wells, whom the town of Wells is named after. Griffin said that Wells had his pick of employees during the Depression. One of the qualities that Wells looked for in his workers was whether or not they played sports or played a musical instrument and that has had an integral role in the direction of the community today.
"Since there were so many people looking for work, Wells had the luxury of choosing who he wanted to employ," said Griffin. "He would always look for extra skills like playing music or being good at sports and that has made the town have a recreational and artistic aspect today."
Griffin said that both Barkerville and Wells are linked and together, they share a unique story. While Barkerville is a heritage park, Wells is becoming known for the arts.
"One is a ghost town and the other people still live in," said Griffin. "Wells is starting to get a reputation as a colourful little arts community—I think there are four art galleries and an art school."