Meet up with a moose
Grizzled miners aren't the only wild beings in gold rush-era Barkerville
by Michelle Dobrovolny —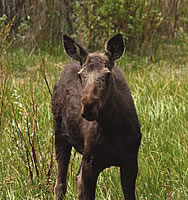 The fascinating history of the Cariboo Gold Rush is just one reason to visit Barkerville Historic Town; the area's beautiful natural setting on the western slopes of the Cariboo Mountains also makes it an idyllic nature getaway. With several provincial parks located just a short and scenic drive away, Barkerville is a must-see for any nature lover.
Just getting to the historic site along Highway 26 can be a wilderness experience in and of itself, according to Judy Campbell, CEO for Barkerville Historic Town.
"If you don't see a moose, it's unusual," she said. "You'll also see mountain caribou, which are very rare—they're endangered—and you'll see deer, lots of black bear and grizzlies."
Spring is one of the best times to make the drive; wildlife, attracted to the new spring grasses found alongside the highway, can be seen emerging from the forests in droves.
This is not to say that wildlife isn't abundant in the area year round. In Barkerville proper, wild animals such as bear, deer and foxes are often seen parading the streets alongside costumed gold prospectors—much to the chagrin of the Barkerville curators who maintain the historic site. Nonetheless, the wildlife does provide Barkerville with an authenticity of the wild and rugged times of the gold rush.
A true nature experience, however, requires heading out into the great wilderness surrounding Barkerville.
"There are tons of hiking trails—it's hard to even summarize," said Campbell. "There are some really nice alpine areas, particularly the alpine plateaus, and a number of the hiking trails leave right from Barkerville or have trailheads that are very close to Barkerville."
Many of these trails were the old wagon routes or pack trails used by the boom town's original settlers, such as the old Cariboo Waggon Road, which was constructed from 1862 to 1865 and once served as the main supply route to the Cariboo goldfields. A 22-kilometre portion of the historic road can still be walked from Barkerville to Stanley. Heading past Barkerville, the Cariboo Waggon Road leads to the Mount Agnes Trail, a roughly four-kilometre scenic jaunt that takes hikers to Summit Rock.
For a change of scenery, Bowron Lake Provincial Park has a varied landscape that encompasses portions of both the Cariboo Mountains and the relatively low-lying hilltops of the Quesnel Highlands. The park is famous for its multi-day canoe circuit through an extensive system of mountain waterways, including pristine Bowron and Spectacle lakes.
With or without a paddle, however, visitors can enjoy the waterways of Bowron Lake for the abundance of waterfowl, as the area is a stopover point for migratory birds. Other mountain creatures, from moose to grizzly bear, can frequently be seen meandering through the white spruce and alpine fir forests, as the park is also a wilderness sanctuary.