Hearkening back to the gold rush
Barkerville Historic Town is worth a visit to soak in all the region's mining history
by Lisa Crane —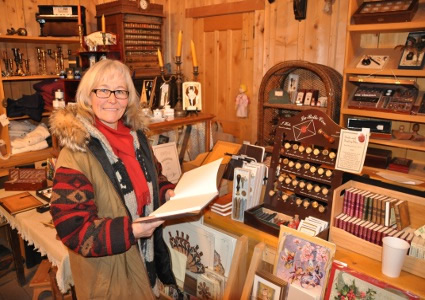 Briton Billy Barker struck gold on August 17, 1862, near a town called Richfield in the Cariboo region of British Columbia. Miners flocked to the area and almost overnight, a town emerged to service the region. The town was named Barkerville after the prosperous Billy Barker.
Donna Dixson, marketing and communications specialist at Barkerville Historic Town, is a Barkerville fountain of knowledge. She said that over the years the town experienced a series of booms and lulls centred around mining. A destructive fire in 1868 resulted in the reshaping of the town, and many of the buildings today were built during the town's hydraulic mining boom.
Dixson said that concern about the future of Barkerville began to surface in the 1950s.
"In 1958, an organized campaign supported by the Wells Historical Society, concerned local residents and local politicians resulted in Barkerville's designation as a heritage site," said Dixson.
Now the recreated heritage town is a booming representation of what it was in the old days. It is located an hour east of Quesnel, near the community of Wells, and provides a great stop for travellers touring through Western Canada.
Dixson pointed out that Barkerville is a National Historic Site of Canada. The Cariboo Waggon Road and the recently designated Chee Kung Tong building (the oldest ethnic Chinese structure in Canada) at Barkerville also have National Historic Site of Canada designation.
Dixson said visitors to Barkerville can enjoy historical street interpreters, attend school lessons and church, and participate in the Cornish Waterwheel Show.
A world championship gold panning expert teaches the art of gold panning and visitors can be part of the action in the courthouse of the infamous Hanging Judge Begbie.
"The Theatre Royal presents four shows daily with over 350 performances over the full season and it is definitely a signature Barkerville experience," said Dixson. "We are currently excavating Chinese terrace gardens, where our visitors have the chance to talk to the archeologist."

Dixson said there are three campgrounds with 187 beautiful, private sites; these are privately managed by Barkerville. The campgrounds feature all the services important to campers and RV travellers, and have generated rave reviews by satisfied customers.
"Although it is great to visit and learn all about the history of Barkerville and the characters that were part of it, it is the people that live and work here now that create a really special and authentic experience," said Dixson.
Barkerville is open from May 9 until September 25, 2011. Check out the website for what is going on this season.