A tasteful tour of New Mexico's culinary attractions
Come to this snowbirding hot zone to find the best food and drink events and establishments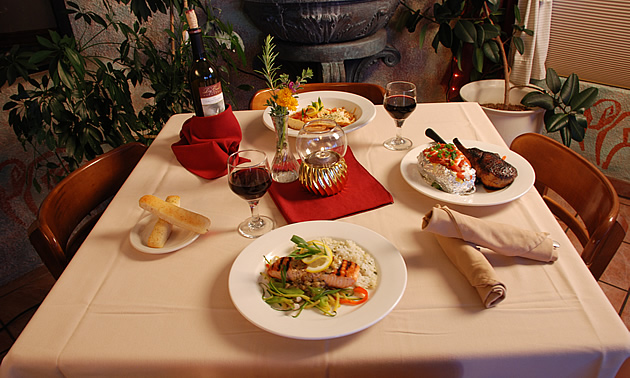 RVers frequently tour New Mexico during their snowbirding holidays, and one of the stops they are raving about is an appealing little community called Elephant Butte. We recommend that you set up your RV at the Elephant Butte Lake RV Resort, a centrally located campground with fun activities, terrific customer service and a laid-back atmosphere.
Once you are set up at the resort, you can walk right across the street and visit the Ivory Tusk Tavern & Restaurant, located at the Elephant Butte Inn & Spa.
"The hotel, spa, restaurant, tavern and RV park are all part of Elephant Butte Lake Resort," said Susan LaFont of the Elephant Butte Inn & Spa. "The Ivory Tusk restaurant overlooks the pool and lawn, along with a view of Elephant Butte Lake in the distance."
Guests staying at the RV park are given a discount card to use when they visit the Ivory Tusk restaurant, tavern, spa or salon.
"The cuisine served in both the Ivory Tusk Tavern & Restaurant is a delightful mix of American and New Mexican cuisine," said LaFont. "Breakfast, lunch and dinner are served daily. A fabulous Sunday breakfast buffet is served in the Ivory restaurant, (and) appetizers are available in the tavern, (which) also offers a bamboo terrace with a small waterfall and fish pond. The tavern is a great place to watch your favourite sports game on our high-definition big screen televisions."
While you're at the tavern, you can enjoy one of the domestic beer varieties, sip on some wine or sample a signature cocktail, such as the popular Pachyderm Punch.
Farmers' market
As you continue your culinary adventure, you should meander through Truth or Consequences, New Mexico, for the Sierra County Farmers Market. This is a great way to sample the local produce. The market is a seasonal event that takes place on Saturdays from 8:30 to 11:30 a.m. in Ralph Edwards Park. Check the website prior to your trip to see if the event will be active during the time of your visit.
Don't forget to visit the bustling city of Albuquerque during your quest for deliciousness. There are a host of culinary events taking place here throughout the year, including beer festivals, wine tastings and even coffee tasting celebrations. The Gruet Winery hosts a viewing party during Albuquerque's famous International Balloon Fiesta. Guests can enjoy sparkling wine and a bite to eat as they watch the hot air balloons fly.
Also be sure to stop by Albuquerque's Downtown Growers Market, which runs between May and November. There are all kinds of vendors selling everything from fresh local fruit and vegetables to handmade arts and crafts. This is a fun event for all ages, with live music and other special events and artistic productions taking place regularly. Admission is free, and the market is located conveniently at Central and 8th Avenue.