Chicken, Alaska's Chicken Gold Camp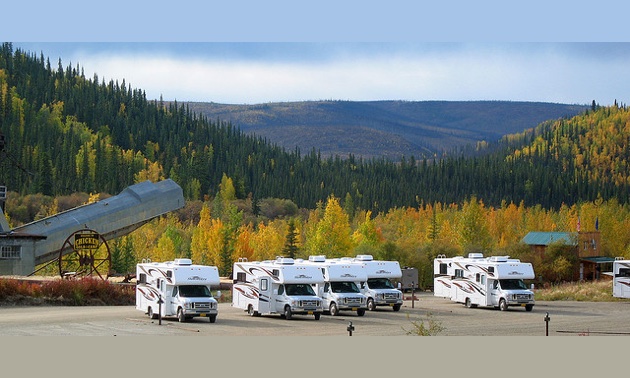 The Busbys—Mike and Lou—first came to Chicken, Alaska for the gold mining. Now, Mike and Lou own and actively direct the Chicken Gold Camp and Outpost, and all of its Alaskan activities. "Our vision is to provide guests a comfortable and insightful visit to our wilderness way of life in remote Alaska," said Mike. "We want everyone to enjoy their visit and enjoy some real Alaska."
Visitors in the camp can explore and gold mine on 100's of acres of Busby's mining claims or pan for gold right in the campground. The best part—you get to keep all the gold you find! Daily trips from the main camp to the mining areas are followed by home-cooked meals at the Chicken Creek Outpost, complemented by Alaskan micro-brews and, as Mike said, "the company of others from who-knows-where in the world." Historic tours of the Pedro Dredge, the on-site museum and the active gold mine are all great visitor points to hit.
The wildlife surrounding the camp is what makes Chicken, Alaska special: "We have moose wander through the park almost daily," Mike said. In the late summer months, the night sky lights up with the aurora borealis—everyone's favourite (natural light) show.
The camp is rustic enough to provide a real Alaskan feel, but still connected and equipped with the basic amenities. The RV park features electric hookups, private cabins, tent sites, a gift store, restaurant and Wi-Fi. Music lovers, align your stay with the annual Chickenstock Festival—two days of bluegrass and folk rock. This year's festival—on June 10 and 11—will mark the 10th anniversary. The camp is offering free RV parking for the event. Both family-friendly and adults-only fun are featured.
If a rustic, yet quaint, wilderness adventure sounds like your type of vacation, book your trip to Chicken, Alaska's Gold Camp right now. "The community is a bit quirky, independent and definitely fun-loving," Mike said. The Busbys welcome anyone looking for off-the-grid adventure to their Alaskan camp.
Chicken Gold Camp & Outpost website: http://www.chickengold.com/