Top things to see and do near Ainsworth Hot Springs
Ainsworth Hot Springs is a popular tourist destination in the Kootenays, and it's easy to see the appeal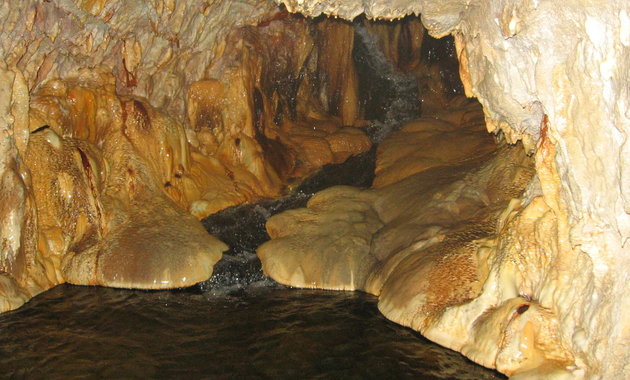 Ainsworth Hot Springs is a small but beloved Kootenay community, known for its healing hot springs and relaxing atmosphere. From soaking in mineral pools to exploring caves, there are plenty of things to do in the area. These are just a few suggestions to start you off on your picture-perfect hot springs holiday:
Of course, the most famous attraction in Ainsworth Hot Springs is the local resort and its public mineral pools. The therapeutic water was first used by Ktunaxa First Nations people, who would soak in it to rejuvenate and heal themselves. In fact, the property is still owned by the Ktunaxa (specifically, by the Yaqan Nukiy, the Lower Kootenay Band of Creston, B.C.); however, anyone can access it and enjoy its benefits.
There is a large lounging pool, a cold plunge pool—and most popular of all—a horseshoe cave where you can wade inside and soak in the naturally heated water amidst fascinating rock formations.
You will need to get a bite to eat after a long day of indulgence. The Ktunaxa Grill is right on site, serving up delectable dishes with locally sourced ingredients.
Top it all off with a treatment at the Spirit Water Spa, and you've got the perfect vacation.
The pools are open every day from 10 a.m. to 9 p.m.
Admittance:
Adult: $12
Senior (60+) and youth (13-18): $11
Child (3-12): $9; under 3 are free
Family (two adults/two children 3-12): $35 (extra child $8)
Day passes are also available.
Ready for your next adventure? Try heading just north of Ainsworth Hot Springs to Cody Caves Provincial Park.
Bring the whole family and tour these natural limestone caves, which have formed over the course of 170 million years.
You can take one of the guided tours during spring, summer or fall. Choose either a shorter trek suited for families or set off on a multi-day excursion—there is something for everyone.
Go camping in the backcountry and experience rugged B.C. beauty at Kokanee Glacier Provincial Park. This is a wilderness-rich area without supplies or hook-ups available, so keep this in mind when planning your trip. Bring a compass, GPS, maps, bug repellent and equipment to make your visit comfortable and safe.
That being said, if you have the necessary essentials, there is ample recreation to be had here. Photographers fall in love with the glacial views, and the area is known for its fishing and hiking opportunities.
There are 30 wilderness, walk-in campsites in the park, and cabins are available via reservation only.