History in the heart of Abbotsford
A flourishing market in the historic downtown and a natural oasis in the middle of the city remind residents and visitors of Abbotsford's roots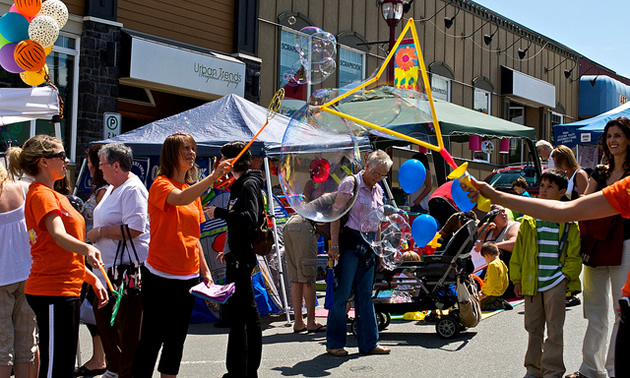 Residents of Abbotsford celebrate the city's rural beginnings in the community's historic downtown, where a vibrant farmers market, the Abbotsford Farm and Country Market, brings food, entertainment and socializing together every weekend during the summer.
"People love the farmers market—not just to shop, but to see who they can see and meet their friends," said Yvonne Hayden, the director of visitor services for Tourism Abbotsford. "They can find everything from delis, bakeries and mom-and-pop stores to services and entertainment."
Located in the original Abbotsford townsite (Abbotsford merged with the municipality of Matsqui in 1995), the farmers market is where people gather for an authentic, laid-back day of wandering through quaint shops and into places to eat or to sample some of the region's best teas and wines.
"The downtown is in the process of being revitalized," said Hayden. "It is a walking, browsing, people-friendly cornerstone of the town."
Centennial Park at Mill Lake is another place that people gather, mainly to escape the bustling city and experience nature without venturing out of Abbotsford. The lake is the former site of the Abbotsford Lumber Company mill, which was operated by the Trethewey family in the early 1900s.
Two kilometres of fully accessible walking trails circle the lake and offer plenty of opportunities for birdwatching or taking in the stunning views of Mount Baker from the floating boardwalk.
"There's a water park for the kids, outdoor swimming, fishing and a lot of picnic areas," said Hayden.
Non-motorized watercraft are welcome to cruise the lake along with an assortment of ducks and geese. Japanese lilies float on the lake; these are vestiges of the mill's history, brought to Abbotsford by homesick wives of Japanese mill workers.
The Trethewey House is still on site and open to the public, as is Karitan House—a gallery for local artists.
"(The park) is used by young and old, and is a beautiful nature reverie right in the heart of town," said Hayden.