Vintage RV: The Lil Loafer – "You're Following an Aristocrat"
Irving Perch manufactured Aristocrat trailers in California from 1956 to 1974.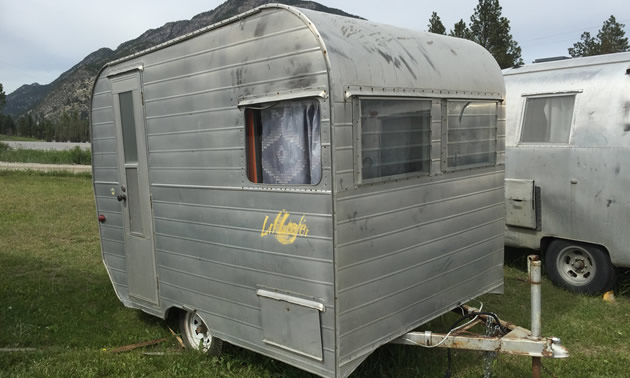 A few weeks ago I was travelling south on a warm spring afternoon on busy Highway 93 in Columbia Valley and alongside a sweeping bend in the road was a lineup of vintage trailers including an Avion, Airstream Bambi, Oasis and this tiny little Li'l Loafer, made by a company called Aristocrat Trailers.
Aristocrat Trailers were manufactured in Morgan Hill, California. The Lil Loafer (made by Aristocrat) was also built in Weiser, Idaho. Another factory was begun in the East, possibly Indiana, circa 1969. The popular Lil Loafer was one of many trailer models owner Irving Perch produced. They were unique little trailers—for example, the 13' Li'l Loafer was a small trailer with higher profile than Lo Liner 13'. It featured a bunk above sink.
Irving Perch manufactured Aristocrat trailers in California from 1956 to 1974. The Lo Liner model was called that because one could purchase optional metal wheels to install when storage in a low garage was desired. These smaller wheels lowered the height, as well as the unique "drop axle."
The Lo Liner was sold as a 13' and a 15' trailer back then, but licensed as 16', as the nearest measurement from hitch to tail. Perch also manufactured a Mainliner, Land Commander, Hi Liner, Lil Loafer, Travelier, Classic, Landmark, Land Liner, American Clipper Motor Homes, the Pick-up Partner and an 8 ft RV called "the bug". The exterior of the Lo-Liner was notable for the large windows on all sides of the trailer. The trailers were extremely well-built with aircraft construction techniques,(metal I beams) and many are still on the road all over North America.
Irv Perlitch (Perch) made his fortune by founding Aristocrat Travel Trailer after moving to Morgan Hill in 1957. Mr. Perch collected unusual antiques such as a 1929 Ford Tri-motor, the first commercial passenger plane to make coast-to-coast flights.
In 1969, Mr. Perch sold his successful trailer business to begin work on a 200 acre family resort in Morgan Hill, CA. It was home to his museums of antique cars and airplanes and where he built his Flying Lady Restaurants.
The little trailers are often remembered for their distinctive design and style – and, of course, many sported the slogan, "You're following an Aristocrat" on the back bumper.
Do you have a Vintage RV story or photos to share? Just let us know at RVwest by emailing [email protected]