Know Before You Go: Border-crossing advice for Canadian travellers with RVs
U.S. Customs and Border Protection provides advice for Canadians travelling south with an RV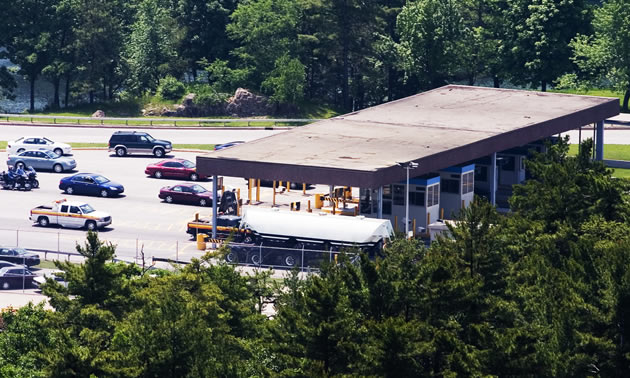 Crossing the border from Canada into the United States with a recreational vehicle is straight forward, if you know what is expected and follow the rules. But it can get complicated real fast if you are not prepared. Two guiding principles to keep your crossing smooth and simple: know before you go; and make a full declaration.
Know before you go
U.S. Customs and Border Protection has an up-to-date website that informs cross-border travellers on everything from how to prepare your documents for border crossing and what food you can take along in your RV to the requirements for your dogs travelling and what firewood is allowed.
Check here for an interactive list of particular items that are restricted when crossing the border.
How long is the wait at the border?
Download the Mr. Border smartphone app to track border-crossing delays and wait-times prior to travel to help you select the best option for your entry into the U.S.
Mr. Border for iPhone
Mr. Border for Google Play
Be patient and friendly when crossing
Jason A. Givens, with U.S. Customs and Border Protection (CBP), said, "When entering the United States, it's important to know the contents of your vehicle and be prepared to declare all items. That includes food, prescription medications, gifts, currency, alcohol and a multitude of other items. Generally, no penalty or fine is assessed for prohibited items if the traveller declares them. If a traveller is unsure if an item is prohibited, they should contact the port of entry through which they plan to enter.
"Additionally, they should ensure they have the proper travel documents and have them ready when they approach the CBP officer. If travelling with a dog, be prepared to show proof of a current rabies vaccination. Travellers can also decrease the time it takes to enter the United States by entering during off-peak hours and by monitoring wait times with the Border Wait Time app. Finally, be patient and maintain a friendly disposition."
Givens highlighted the following information for Canadians travelling to the U.S.:
Travel documents: Travellers should have appropriate passports and any other associated travel documents ready when approaching a CBP officer. Find out more information about approved travel documents for entry into the U.S. as well as country-specific information at travel.state.gov. Remember to carry these documents with you—do not pack them.
Declare all items: Truthfully declare everything you are bringing from abroad including duty-free items. Many agriculture products can bring damaging pests and diseases into the country. If you have questions about what food is allowed or not allowed into the U.S., visit https://help.cbp.gov/. There is no limit to how much currency you may take in or out of the United States; however, U.S. federal law requires you to report your total currency of $10,000 or more. Travellers must declare all medicine and similar products when entering the United States. Prescription medications should be in their original containers with the doctor's prescription printed on the container.
Monitor border wait times: Download the Border Wait Time app or use the border crossings wait times website to plan your trip across the border. Also, consider crossing during off-peak times, such as between the hours of 6 and 8 a.m. or after 5 p.m. Most lines at the border start building in the morning and carry on through the afternoon.
Travelling with pets: Cats and dogs must be free of disease and illness when entering the United States. In addition, dog owners must be able to show proof of rabies vaccination. If crossing with a puppy, certain paperwork will need to be completed at the border for the "new addition to the family." For more information about travelling with your pet to a foreign country or bringing your pet into the U.S., visit APHIS's pet travel website.
Travelling to the United States with a recreation vehicle for part of a Canadian winter is something many of us do and the rest of us dream about. Making the crossing is straightforward when you "Know Before You Go."