Trip planner: Everything you need to know before RVing or camping in Nelson, B.C.
Check out the RVing opportunities in Nelson, British Columbia
Nelson is a hub of Kootenay culture and artistic expression, with distinct character that makes it well worth a visit.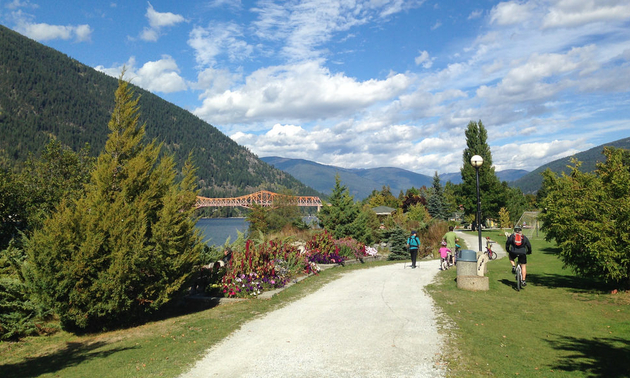 In Nelson, B.C., you can peruse interesting shops, eat amazing food and relax on the local beach. Or, you can venture into the surrounding wilderness areas for incredible outdoor adventures. RVers are sure to be pleased with what Nelson has to offer.
Population: 10,230
Climate: Nelson has a pleasant Kootenay climate, and the best time to go camping is between late spring and early fall.
Tourist information for Nelson, B.C.
Campgrounds and RV resorts in Nelson, B.C.
Sanidumps in Nelson, B.C.
Top attractions in Nelson, B.C.
One way to take in the views is to indulge in a wilderness adventure. There are plenty of trails to explore, beaches to lounge on and wildlife to see and photograph on Nelson's hiking trails. There are routes suitable for family use, for those with less experience, or for those with limited ability. If you're new to the area, consider going on a guided day tour, offered by Mountain Sense or Summit Mountain Guides.
Kootenay Lake offers legendary fishing; you can reel in a Gerrard rainbow, Dolly Varden, bull trout or even a Kokanee salmon. Hike into the backcountry if you're adventurous, and fish for cutthroat in the smaller lakes and streams. As a side note, August is spawning time for the salmon, and you can go to Kokanee Creek to watch this amazing natural event.
3.) Touchstones Museum of Art and History
Getting the full Nelson experience means embracing arts and culture. The Touchstones Museum of Art and History is located in a beautiful heritage building at the corner of Ward and Vernon Streets. It is bursting with exhibits that show off the talent of local artists, and there are programs and events taking place regularly.
Start planning your trip now, and schedule it to coincide with one of Nelson's many public events. The folks here know how to celebrate, with live music, theatre, Art Walk, fun classes and multicultural festivals. There is always something going on.
5.) Take a walk around town
A walk around downtown Nelson will show you some of the city's most charming aspects. Quaint and quirky shops line the streets, and there are artistic exhibits scattered throughout the community. The heritage buildings are well-preserved to maintain the classic architectural look that Nelson is known for.
Top events and festivals in Nelson, B.C.
Embrace your artistic side and take in an array of live performances at this annual April event.
This wine, spirit and craft beer festival takes place in April, and will have your tastebuds tingling.
This event is so popular, they have to hold it twice a year! The fair takes place annually in May and November.
This celebration incorporates live music and other artistic performances, vendors, visual art displays and more. It takes place every June.
Check out the local talent and visit a variety of art studios and galleries during this ongoing summer event hosted by the Nelson District Arts Council.
RV-Friendly Businesses Near Nelson