Trip planner: Everything you need to know before RVing or camping in Dawson Creek, BC
Check out the RVing opportunities in Dawson Creek, British Columbia
Dawson Creek is a prime location—you can venture out in any direction and find something of interest close by. The lush camping areas and wildlife viewing opportunities are two of many reasons to set up your RV here, but don't forget to peruse the local parks and stop by the farmers market and art gallery while you're there.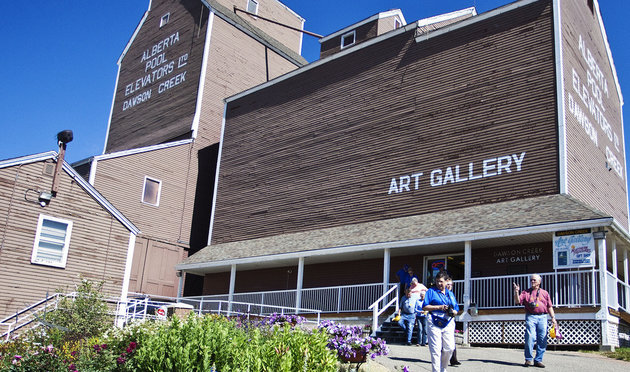 In addition to its friendly northern hospitality, Dawson Creek also offers a wealth of recreational highlights for RV campers. Here is a little something to get you started on your adventure.
Population: 11,583
Climate: Dawson Creek offers its best camping weather during the summer months.
Tourist information for Dawson Creek
Campgrounds and RV resorts near Dawson Creek
Top attractions in Dawson Creek
The South Peace Art Society operates the facility as an arts and culture hub for the B.C. Peace Region.
Rated the top attraction in Dawson Creek by TripAdvisor, Kiskatinaw Bridge is a landmark worthy of visiting.
Learn about the early days of Dawson Creek, and the building of the famous Alaska Highway - a project that required the hard labour of 30,000 soldiers and civilians.
Rotary Lake and Park
Here you can find a playground and a man-made lake that attracts plenty of visitors during the warmer months.
This well-known heritage site brings visitors back to the time of pioneers.
Check out this article for more information on attractions in Dawson Creek.
Top events and festivals in Dawson Creek
Annual Dawson Creek Exhibition & Stampede
Each year in August, this event brings enthusiastic families out for some Western-style fun. There are vendors selling food and locally made artwork, children's events and of course a rodeo with cash prizes.
The great outdoors has never been greater
Dawson Creek is known for its outdoor recreation. Go swimming in man-made Rotary Lake (or do the polar bear swim in the colder seasons if you're especially brave). The only lake of its kind in the Peace Region, Rotary Lake is ideal for RV campers who want to stop for a picnic, play some volleyball on the beach, have a barbecue or enjoy other outdoor activities. Please be aware that there is no lifeguard on duty. There are public washrooms and telephones at the park entrance building, and in summer you can visit the food concession. For more information call 250-782-7144.
Just a short drive from Dawson Creek, you can visit Bear Mountain Community Forest. There are plenty of interpretive trails for those who love to go on nature walks, and the bird watching is unbeatable. There are picnic and bonfire sites along the way, so you can stop and have a bite to eat during your excursion.
RV-Friendly Businesses Near Dawson Creek