Trip planner: Everything you need to know before RVing or camping in Dawson City, YK
Check out the RVing opportunities in Dawson City, Yukon
The northern scenery will wow you, and the residents will make you feel right at home, so make room for Dawson City on your next itinerary.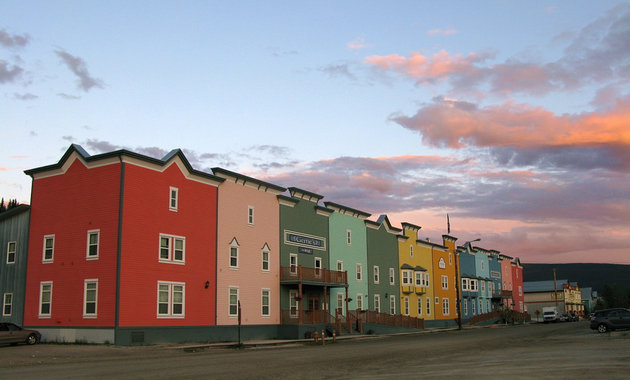 Once the centre of the Klondike Gold Rush, Dawson City is a community with many tales to tell. See famous historical sites, take a stroll beside the Yukon River, or check out Diamond Tooth Gertie's Gambling Hall—and that's just the tip of the iceberg.
Population: 1,319
Climate: Given its subarctic climate, Dawson City is most enjoyable for RVing during the summer months.
Tourist information for Dawson City, YK
Klondike Visitors Association
Dawson City website
Dawson City Visitor Information Centre
Top attractions in Dawson City, YK
See the homes that once belonged to writers Jack London, Pierre Berton and Robert Service.
Diamond Tooth Gertie's Gambling Casino
Those looking for Gold Rush era entertainment will appreciate this vintage gambling hall and the regular performances that are held there.
The Klondike Institute of Art and Culture
Embrace northern arts and culture at this impressive centre.
Top events and festivals in Dawson City, YK
Party with the locals, at this multifaceted music festival that takes place each July.
Dawson City International Short Film Festival
Take in some noteworthy independent films at this annual event that takes place on Easter weekend.
Sanidumps in Dawson City, YK
Eagle Plains Hotel & Service Station
867-993-2453
Campgrounds and RV resorts in Dawson City, YK
Klondike River Lodge
867-993-6892
Dawson City RV Park & Campground
RV-Friendly Businesses Near Dawson City