A photo tour of Yuma
Bill Butler loves to show off his home town through his photos
by Jackie Dishner —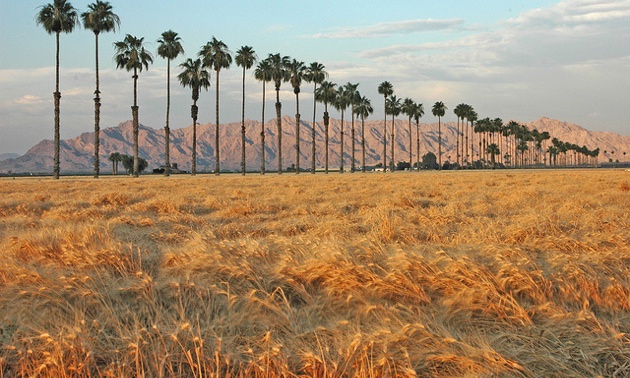 Bill Butler, born and raised in Yuma, Arizona, studied advertising before immersing himself in his photography career. You can find his portfolio of portraits, landscapes and commercial photography at photosbybillbuter.com. He also loves to capture images in his hometown. The following list comments on Butler's photographs, above, and his thoughts on how you can capture similar shots yourself.
Wheat fields
Butler recently took this shot of Yuma's wheat fields just north of Yuma in the Gila Valley with a wide-angle lens, looking east in late afternoon light, from a Circle K parking lot off Highway 95. With the well-lit wheat in the foreground and the perfect row of palm trees and Gila Mountains in the background, Butler managed to capture a more layered scene, along with a multi-hued sky, on film.
"Agriculture is a big part of Yuma's economy, with many different kinds of crops grown here year-round," said Butler.
Yuma Territorial Prison
While you're looking inside the city's Old West history at the Yuma Territorial Prison, you can also take your shot at the cell blocks, the courtyard, the watchtower and more. It's all architecturally unique to Yuma. Butler said to arrive at mid-morning (10 a.m. to 11 a.m.) or mid-afternoon (1 p.m. to 2 p.m.) to get the best mix of shadows and more interesting shots of the textures and lines. The prison overlooks the Colorado River and is close to downtown.
Sonoran Desert
This shot captures a spot in the Sonoran Desert on Highway 95 between Yuma and Quartzite. Butler stopped to pull over onto the side of the road late in the day when he noticed dark thunder clouds to the east and sunlight streaming low from the west. For this shot, he had to run around to find the perfect spot where he could position the double rainbow over the palo verde tree.
"I was lucky to be in the right place at the right time," he said.
Colorado River I
This was taken at sunset. Butler stood on the California side of the Colorado River and waited for the sun to fall behind the tree to get the reflection in the water he wanted to capture on film. If he'd tried to take this shot at noon, when the sun is directly overhead, you would see no reflection at all in the water. He said this is a great location to capture wildlife on film as well.
Historic downtown Yuma
Yuma's historic district has many interesting photo opportunities for amateurs and professionals alike. It's here you'll find great architecture, old homes and businesses, and historic sites and museums. Butler made this image of the district while on Main Street, looking north. The best time to photograph the area, he said, is mid-morning or mid-afternoon. That's when you can take advantage of the lower angle of light that creates more depth, shadows and highlights.
Colorado River II
Butler took this shot from underneath the Interstate-8 bridge, where it crosses the Colorado River. Early pioneers in the 1800s used this narrow portion of the river to cross over to California. Thus, it was known as the Yuma Crossing. Today, it's known as Gateway Park. For this shot, the photographer takes advantage of mid-afternoon sun to illuminate the underside of the bridge and highlight surrounding scenery. The ISO is set at 200, near the lowest setting, to take advantage of the ambient light, or the light that is available in this natural setting, without flash. In this case, he recommends using a tripod or monopod/walking stick to avoid camera shake.
Agricultural workers
Although they tend to be shy of the camera, Butler managed to gain the attention of these agricultural workers in the cantaloupe fields while they were busy harvesting the fruit. But since melon harvest season is in the summer, you can try your hand at similar shots by experiencing Yuma's agritourism in the winter, with farm tours and Yuma Lettuce Days.
Yuma sign
This dilapidated sign near Lute's Casino, a popular gathering spot in historic downtown, was once a railroad sign that somehow got placed on Main Street, said Butler. For the most part, this is a simple point-and-shoot image. To take something similar, simply look around to find the sights that interest you most.
Whatever catches your eye, be prepared to take a shot at it. Then try the burgers at Lute's.
Imperial Sand Dunes
The photographer used slide film for this shot, taken 15 years ago at the Imperial Sand Dunes, a state park in California that is a popular outdoor recreational spot for Yuma locals. He said the best time to photograph the sand dunes, located 18 miles west of Yuma off Interstate-8, is right after sunrise or just before sunset. The low light emphasizes the rivulets of the dunes. He prefers to use a tripod or monopod for these shots. He made this photograph during the summer. Winter is busy tourist season, he said, and it's harder to find pristine dunes then.
Date palms
Taken on a foggy day, this shot highlights a dormant grove of date palm trees on 8th Street and Avenue B in Yuma. The area's not fenced off, so you could walk through the grove to get a similar shot of your own. Your challenge: to catch the morning fog at just the right moment, before it dissipates. Date palms are part of the area's agricultural industry, with an annual date festival taking place in November. To try a popular date shake or tour a date farm, visit Martha's Gardens.