All Our Parks opens a new resort in Yuma, Arizona
Carefree Village Resort's grand opening is scheduled for November 2014
by Kimberly Schoenberger —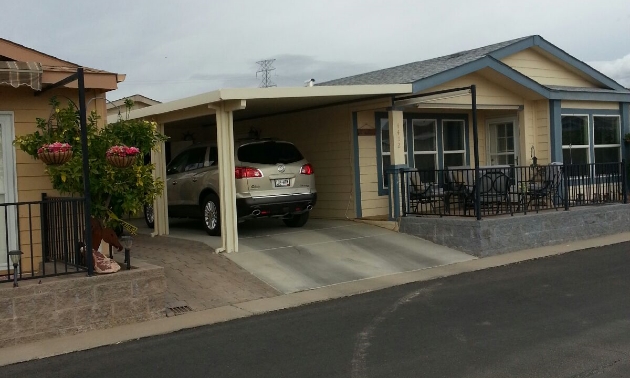 Opening in November of this year is All Our Parks' seventh addition to its family-based RV resort chain, Carefree Village Resort. Construction is still underway, but Jim McMillan, owner and operator, said that there are going to be a wide variety of amenities that both the short- and long-term residents can enjoy.
"We've got all kinds of planned activities," he said. "Dances, dinners... It's going to have an exercise room, a computer room, billiard room, card room—it's going to be active all the time. We're going to have more than 20,000 square feet of rec building."
The resort will also feature a plethora of outdoor activities, including a miniature golf course, putting green, resort-style pool, and several sports courts—of which McMillan said pickleball is the favourite.
"We've really seen an up-tick in the pickleball courts," he said. "It's small than tennis, so almost anyone can enjoy the game without overexerting themselves."
Listening to the people
The park will be the fourth All Our Parks resort in the Yuma area, and McMillan said that this one is going to be the most special yet.
"In the whole Southwest, it's going to be a pretty unique park," he said. "I just think it's going to give off a super active RV lifestyle, where people don't have to limit themselves to a park model or an RV—they can buy a full two-, three-bedroom home if they choose to, and still have that RV atmosphere, RV activity and RV lifestyle."
McMillan said the design of the resort was heavily influenced by the input of frequent guests from their other parks.
"We've listened to the people and we've tried to design exactly what the public we deal with wanted," he said. "In our other properties, we've seen an increase in the number of permanent homes, and that's why we built this park. People want to have a destination home where they can settle down. The motorhome is great to stop and travel, but people also want to know where they're going to be settling down at the end of the day."
As a celebratory special, those who make reservations at the park before the grand opening in November will only pay $550 per month—significantly lower than the park's usual pricing. Bookings after the opening will be regularly priced.