Agritourism at its finest with Medjool farm tours in Yuma
The magic of Medjools
by Kimberly Schoenberger —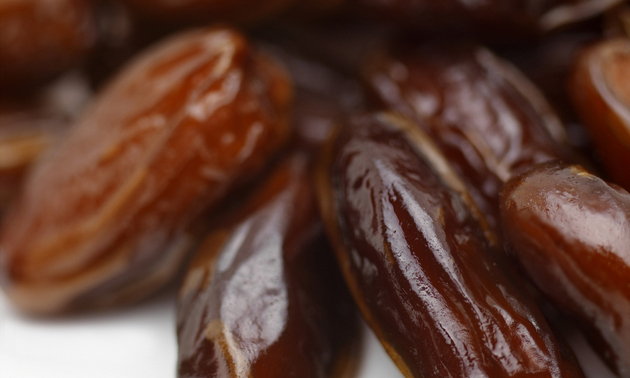 With origins of their cultivation coming from ancient Mesopotamia nearly 6,000 years ago, dates have some of the longest agricultural history of any crop. Since that first period of harvest, the fruit has been enjoyed all over the world for its rich, sweet flavour as well as its great health value.
Medjool dates, considered one of the highest quality of the dates family, are dark brown in colour with a very rich, soft, fibrous texture and a taste similar to honey. Their naturally sweet taste makes them excellent for fresh consumption as well as for use in baking and cooking. Medjools have an impressive amount of health benefits as well, stemming from their high concentrations of antioxidants, potassium, natural fibre, carbohydrates and protein. These dates contain what are considered good carbohydrates—rated low on the glycemic index—making them ideal for high energy, good health and blood sugar control.
Medjools were originally imported to the United States in the 1920s from French Morocco in the northwest part of Africa, but were strictly contained to Nevada for several years to ensure that they were not harbouring any diseases or contaminants that would endanger indigenous species. Once approved for expansion, trees were eventually planted in Arizona's Bard Valley in the 1940s, where they now are produced in some of the finest and largest quantities in the world.
Martha's Gardens Medjool Date Farm
One of the places that produces large amounts of these high-quality fruits is Martha's Gardens Medjool Date Farm, located in the foothills of Arizona, just half an hour outside of Wellton. The farm was founded in 1990 by Nels and Martha Rogers, and the couple have been running a highly successful business ever since. When the two first began their farm, they had only 300 plants, but today they have over 4,000 palms filled with succulent Medjools and spanning more than 100 acres.
The farm overlooks the stunning desert Gila Valley and is open seven days a week from October to May. Farm tours are offered twice a day Monday through Friday, where visitors can learn about how dates are farmed as well as their history in the area. The gift shop is also open during this time. Though the farm itself is only open for part of the year, its online store is open for orders year-round.
The primary products offered by Martha's Gardens are fresh Medjool dates, but they also offer a variety of specialty items as well as the lesser-known Hayany date. This particular variety of date known as a fresh-all-year-round date because of its ability to retain taste, texture and shape after being frozen. Once thawed, Hayany dates look as though they've just been harvested.
For more information about Martha's Gardens or to order any of their products, visit marthasgardens.com or call the store at 1-928-726-8833.
Imperial Date Gardens
Another great place for agritourism around Wellton is Imperial Date Gardens, located just across the Colorado River from the city. These gardens were founded by Isabel Nunez in the late 1970s, just a few years after he purchased his first date farm in 1972.
Nunez and his family's care, personal pride, nurturing and attention to product quality helped Imperial Dates grow to be one of the biggest and most influential leaders in the Medjool date industry. Tours of the farm are available for groups of 12 people or more, though they must be booked in advance. The farm is open from September to April seven days a week, but products are available for order year-round from their online store.
Products offered by Imperial Dates include fresh Medjools, chocolate dates, stuffed dates, date mix packages and gift packages, as well as a variety of other specialty and baked products. To order any of these products or to book a tour of the gardens, visit imperialdategardens.com or call 1-800-301-9349.