A passion for adventure? Head to Yellowknife
Lakes are popular destinations for fishing, kayaking, and adventure tourism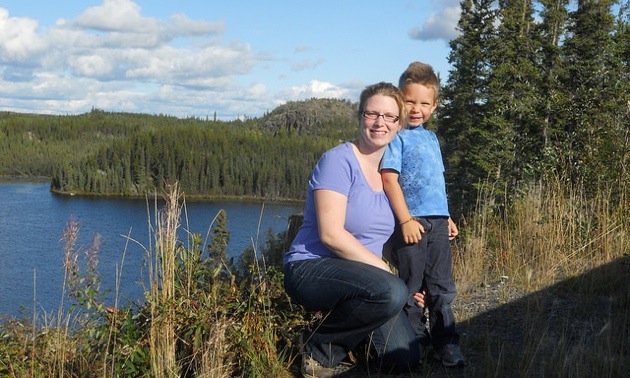 Leanne Hannah has called Yellowknife home for more than 25 years and though she's seen many other places in Canada, she wouldn't have it any other way. Her family moved north from the East Coast when her father was transferred to two military postings—the first assigned and the second requested because the family liked it there.
Yellowknife has blossomed over the years thanks to oil and gas and mining developments, growing it to a lively, bustling place where it's no longer novel to see big name stores and restaurants.
"It used to be if anyone went south for shopping they would bring back cold Big Macs or Tim Hortons donuts on the plane," said Hannah. "People would laugh and say, you better bring something back! And of course people were willing."
The community's friendly, small town, closely knit ambiance is an important factor in making it an inviting place to live and visit, said Hannah.
"People wear living here like a badge of honour because of the extreme temperatures," she said. "We kind of chuckle to ourselves when people from somewhere else say they are cold.
"If you're not used to it, it's like nothing you've ever experienced," she said. "It's extreme and despite that, or maybe because of it, people take care of each other here."
It could also be the strong Aboriginal culture that influences the profound sense of community, she said, but whatever it is, people look out for each other.
"A lot of people who move here move away from family and are doing it for work or whatever the reason, so the people around you become family," she said.
Although it offers every amenity from soccer pitches to endless shopping, and employment is plentiful, within a five-minute drive the city seems to disappear.
"We are in the middle of the tundra right at the treeline, and in just a few minutes you can't hear, see, or experience the city," Hannah said.
Best destinations
It is in this tranquility that Hannah enjoys day trips with her seven-year-old son Ethan. The two head down the Ingraham Trail—a 70-kilometre stretch of Highway 4 just east of Yellowknife—looking for adventure. Lakes dot either side of the highway (which Hannah describes as "paved-ish") and are popular destinations for fishing, kayaking and adventure tourism, and as launching points for mountain biking and cross-country skiing trips.
One of Hannah's favourite spots is Cameron Falls, which is about an hour's drive down the Ingraham Trail and a 45-minute hike in. The well-marked, two-kilometre trail allows hikers of all abilities to take in epic views of vast taiga landscape. It can be steep in places, so good shoes are a must.
"The waterfall isn't large, but it's beautiful and makes for a nice afternoon," Hannah said.
Big Hill Lake is another hidden treasure along the Ingraham Trail, found just 25 kilometres east at Madeline Lake. Watch for a rough pullout on the south side of the highway—this is the way in to the six-kilometre hiking trail that also makes a great destination for overnight tenting.
After traversing the wilderness, Hannah recommends chowing down on fresh pan-fried Arctic char or sashimi at Bullocks Restaurant, located in the heart of Old Town Yellowknife, the original settlement.
The ambiance is set with the walls collaged in photos and signatures, and a style of service that has to be experienced to be appreciated, said Hannah.
"Everyone gets salad, hand cut fries and secret sauce for the fish," she said. "It's not cheap, but it's great."
The Pilot's Monument, a tribute to the bush pilots and engineers whose lives were lost flying over the wilderness in the 1920s and 30s, is located next to Bullocks on Yellowknife's highest point. Stairs lead up to stunning panoramic views of the entire city—a beautiful way to round off an afternoon in Yellowknife.