Wrangle up some album-worthy memories in Wrangell, Alaska
Capture petroglyphs, Chief Shakes Island and wildlife along the Stikine River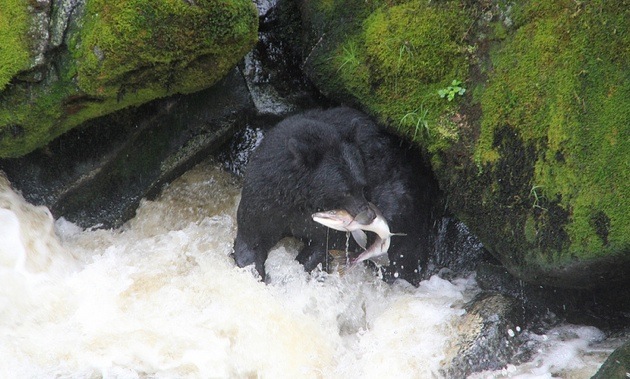 Shortly after moving to Wrangell, located at the mouth of the Stikine River in central southeast Alaska in the heart of the Tongass National Forest, Carol Rushmore founded Simply Sterling with her sister, designing sterling silver jewelry after the Alaskan petroglyphs found in Petroglyph Beach State Historic Park.
According to Rushmore, she and her sister started designing the jewelry to share the beauty of the native rock carvings—one of the unique cultural resources in the area that she says also motivate her family adventures and amateur photography.
"I started to get interested in photography when I moved to Wrangell, not only because of the beauty of the area but also because of my young children and wanting to share our adventures with family," said Rushmore.
She said that Petroglyph Beach State Historic Park is a "must see site" fit for family adventure, as it has one of the highest concentrations of the rock carvings that inspire her jewelry and photography.
Designated as a State Historic Park in 2000, Petroglyph Beach is easily accessible from town (approximately a mile from the ferry terminal) and allows direct access to more than 40 petroglyphs. The park also offers a boardwalk to a deck overlooking the beach, the Stikine River and Zimovia Straits. Replicas of some of the petroglyphs are displayed on the deck for visitors to make rubbings.
Just beyond the beach, Rushmore said that the Chief Shakes Tribal House and Island, a small island located in the middle of Wrangell Harbour, is another iconic local cultural resource.
"The Tlingits moved to this part of Wrangell when the Russians settled here in the early 1800s," said Rushmore, adding that the Stikine Tlingit people reconstructed the Chief Shakes Tribal House and rededicated it last May. "It is a national historic monument."
And via the surrounding Stikine River, the fastest navigable free flowing river in North America, Rushmore said there are "many wonderful places and such beautiful scenery."
"A trip up the river through the wilderness and coastal mountains is spectacular," she said, citing glaciers, waterfalls, hot springs, gorgeous scenery, and active wildlife. "During July and August, when the pink salmon are running up Anan Creek, brown and black bear come to feast on the bounty. It is unusual to see brown and black feeding together."
Rushmore said her only advice to visiting photographers is to "always have your camera with you, have plenty of batteries charged and enough card space in your digital camera."