The Forks is the top tourist attraction in Manitoba
This historic site welcomes over four million visitors annually—its market, museums, river walkways and numerous other attractions make it a popular place
by Karen Kornelsen —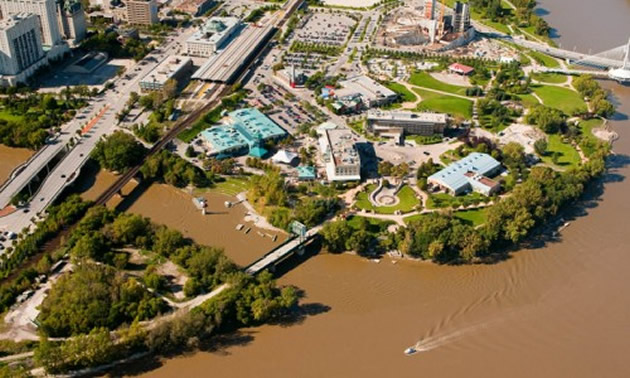 The Forks truly is a spectacular meeting place and the perfect blend of city and nature, located in the heart of Winnipeg, Manitoba. The Forks, one of Winnipeg's most beloved places, lies at the junction of the Assiniboine and Red rivers. Today, The Forks welcomes more than four million visitors a year and is one of the top tourist attractions in the city. In fact, it was named as a winner in the 2013 RVwest Reader's Choice Awards.
The Forks is open year round with a multitude of events being held every season. The 56-acre site includes parks, promenades, gardens and sculptures with shops, restaurants and other attractions. The Forks has received international awards for design excellence and worldwide attention as a model for urban renewal and waterfront development.
Among its attractions is The Forks Market, which offers an array of shops to browse for a wide variety of specialty items and souvenirs. Downstairs, The Market features an irresistible fresh food emporium with everything from gourmet cheeses to meats, organic baked goods and wine. Upstairs, in the Market Loft, shoppers will find items ranging from cigars and aromatherapy products to crafts and artwork created by some 300 local and Canadian artists and artisans.
The Festival Park and Scotiabank Stage is a venue within The Forks that has hosted some of Winnipeg's finest concerts and events. Past events have included Canada Day at The Forks presented by Rogers, Folklorama's annual kickoff celebrations, the Truth and Reconciliation Commission and Her Royal Highness the Queen's visit of 2010, Spiritfest and the Warchild Concert of 2000, and the 1999 Pan Am Games mainstage concerts.
The Forks also features the Children's Museum, the Canadian Museum of Human Rights (to open by 2014), the Assiniboine Riverwalk, Explore Manitoba Centre, Manitoba Theatre for Young People and much more.
It's no wonder The Forks was voted by RVwest readers as a favourite attraction in Manitoba.