Families enjoy the network of trails near Williams Lake
Bond with nature at Scout Island Nature Centre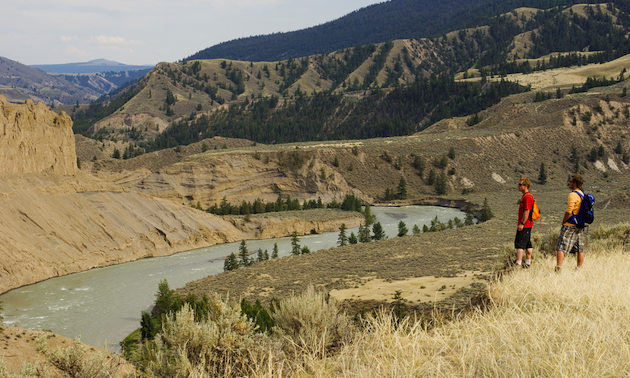 Williams Lake is an outdoor enthusiast's paradise. The area around this community has easy hiking trails on which parents or grandparents can take young children for an easy stroll. Families who enjoy spending time together in the outdoors will appreciate the scenic beauty, the broad network of trails and the wide variety of terrain.
Family hiking
The River Valley Trail is well maintained, quite gentle and ideal for taking children on an interesting nature walk. It's a multi-use trail used not only by hikers and bikers but by joggers and cross-country skiers as well. For a short, easy walk, the Scout Island Nature Trails are also family friendly. Children sometimes challenge their grandparents on the more adventurous terrain of the Jimmy Fox Trail—a three-hour round trip—with everyone having a good workout. However, there are more rigorous trails for the more adventurous hiker that are also extremely popular with mountain biking fans.
Family mountain biking
There's no need to leave the city for an excellent mountain biking excursion. With over 200 kilometres of trails within the city limits and another 100 kilometres nearby, there is more than enough for every level of biker. Young families or grandparents enjoying a vacation with their grandchildren will appreciate the natural surroundings and easy terrain on the 12-kilometre Williams Lake River Valley Trail. It's perfect for touring and ends up at the Fraser River.
Nature centre
Williams Lake is known for its outdoor recreation, but those with young children may prefer the more sedate activities of a day at the Scout Island Nature Centre. At the centre, children may be allowed to feed the snakes and salamanders. When outdoors, follow the marsh for 2.5 kilometres on a groomed trail and look for foxes, beavers, turtles or deer who call this area home. Open from May to August and on weekends until October, it's a community centre for both people and animals.
Cowboy museum
A visit to Williams Lake is not complete without a stop at the Museum of the Cariboo Chilcotin. Here you'll find the BC Cowboy Hall of Fame and a tribute to the heritage of the Williams Lake ranchers. It may be surprising to learn that many of the cowboys in this area working on horseback were women and also First Nations people. Over 40 saddles used by the inductees are on display, as well as over 7,000 artifacts including old farming equipment.