Yukon's beauty inspires the artists of Whitehorse
Visit an artists' co-operative in this vibrant and artistic northern city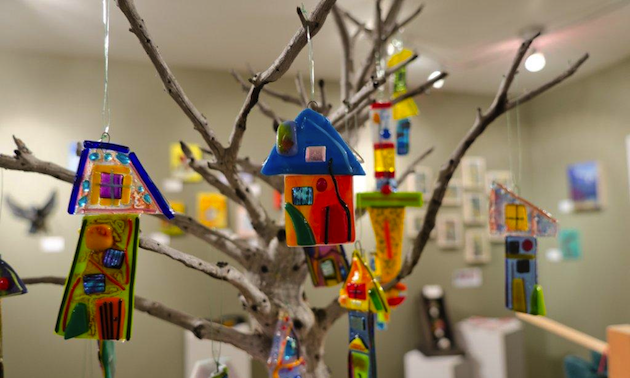 Whitehorse, Yukon, may have a smaller population than other capital cities in Canada, but per capita the Wilderness City is packed with artistically talented people.
Yukon Artists @ Work
According to Jeanine Baker, a local glass artist and longtime member of the Yukon Artists @ Work (YAAW) artist-run collective and gallery, "there's so much skill per capita."
"I think the area just attracts certain types," said Jeanine, whose husband, Paul, is also an artist. "The wilderness and the beautiful scenery are inspiring."
The Yukon River runs through the city, which is also fringed by mountains, a gorgeous atmosphere that Jeanine said has inspired art that cannot be easily categorized and "a laid-back community of artists where they can all get together and perform."
"I've lived in other parts of Canada, and the Yukon is quite open-minded," she said. "We have a real do-it-yourself attitude here: your-plumber-is-cutting-a-CD-on-Thursday kind of thing."
The same attitude was the driving force behind the creation of the YAAW itself.
"Before the gallery was established in 2003, artists worked independently and could sell at the craft fairs and get in a number of small galleries around town, but there wasn't really an opportunity to sell themselves," said Jeanine. "By creating our own co-operative, we had a larger group of people and more of an ability to do that. It was kind of the first of its kind where a large group of artists got together to represent themselves in the Yukon."
Paul, who began doing metal sculpture and joined YAAW about five years ago, said he values the supportive environment that the collective has cultivated.
Paul also owns the custom boat fabrication business Snowdrift Designs; he said, "it just seemed like art was the natural way to go" after working with metal for so many years.
"I took a drawing class and learned it's not a gift you're born with, it's a talent you can learn," said Paul. "I just expanded from there. It was just an evolution. For me, the real positive of the co-operative gallery is the feel of it. There's a collective conscience; it's a group of like-minded people. You're dealing with a whole group of artists, so when there's an opening for somebody's new show there'll be a core group of people there to support it. It's got a whole different feel to what a commercial gallery (has). A lot of it's about the camaraderie."
The artist-run collective aspects of YAAW have positive upshots for visitors too, added Jeanine.
"Everybody owns and operates the gallery, (and) everybody works shifts—so anybody you talk to behind the desk, they'll be an artist," she said. "You're always dealing with an artist."
She said YAAW has "played a big part in the arts scene exploding" in Whitehorse and in Yukon as a whole.
A happy explosion
"Now there are other galleries popping up and there are a lot of shows happening," said Jeanine. "There are openings once a month. It's really evolved from when we first started—being the only ones having openings on a Friday—and now there are four or five openings on a Friday. There are so many choices up here, especially in the wintertime. There is a lot to do."
And while the quantity of art in Whitehorse may be on the rise, Sally Sheppard—a fibre artist working in surface design, hand and freestyle machine embroidery and a director on the YAAW board—assures that the quality of work has been stalwartly maintained.
"Members of YAAW are juried in by a review panel, keeping the calibre of work displayed in the gallery at a high level," she said.
Recommended galleries in Whitehorse
Jeanine and Sheppard both also recommended Arts Underground and the government-run Yukon Arts Centre as other high-calibre galleries worth visiting while in Whitehorse.
"The Arts Underground gallery, located on Main Street in Whitehorse, provides a venue for professional and emerging members of the Yukon Arts Society to display their work for public viewing," said Sheppard.
Sheppard added that the gallery also operates a small store that sells locally produced arts and crafts.
"The Yukon Arts Centre, located in Whitehorse, provides the territory with an outstanding venue for the visual and performing arts," said Sheppard. "The public art gallery is the premier venue in the Yukon for visual art exhibitions, with a focus on contemporary Canadian and northern art and programming, (and it is) open year round for public viewing."
She said several other commercial galleries and gift shops in Whitehorse are open year round too—including jewellery stores that design and sell gold nugget jewellery.
Arts in the Park
Between May and September, visitors can take in one of Whitehorse's exciting events, and Sheppard said one of the best events in town during the summer is Arts in the Park, held over the lunch hour in downtown Whitehorse every weekday at LePage Park on Third Avenue.
"It features performers, usually musicians, every day, and a visual artist of the week who does demonstrations," she said. "There is also a Wednesday night performance from 7 to 8 p.m. It's free, fun and high-quality entertainment."
Jeanine agreed that Arts in the Park is a summer highlight for visitors.
"(It's) a nice summer thing for tourists," she said. "It's right in the middle of town, so you can grab a sandwich and see some art right in the park. A lot of young travelling musicians end up coming back and staying once they realize the potential here. The arts scene is growing and growing and growing."
The Yukon Artists @ Work gallery is open seven days a week from 11 a.m. to 5 p.m. and can be reached by phone at 867-393-4848. There is room for RV parking in front of the building and along the street. There is no charge to enter the gallery or any of the galleries mentioned in this article.