Adventures abound in Whitehorse
Beringia Interpretive Centre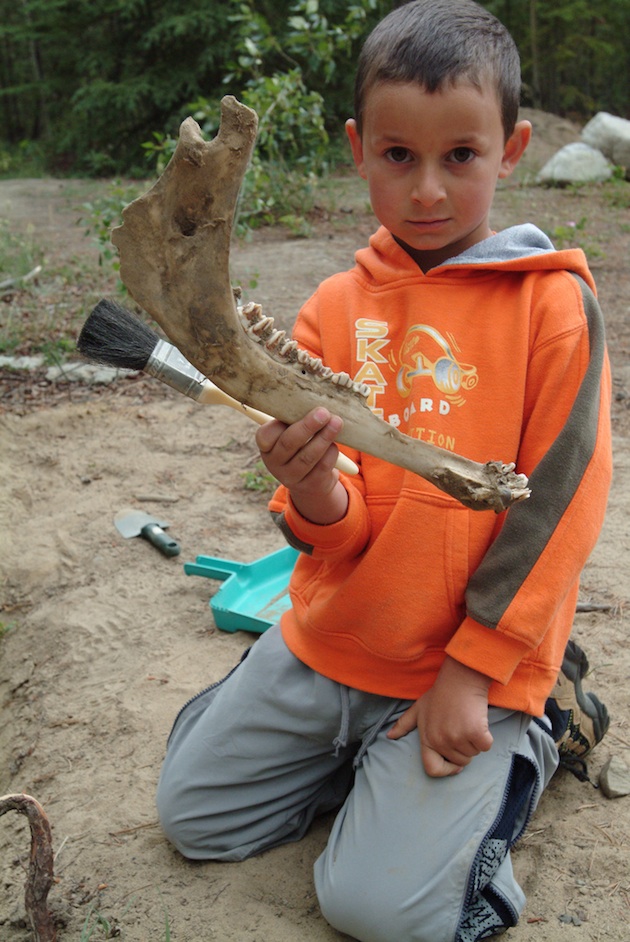 Miles Canyon and Canyon City
Lava flows created Miles Canyon over 8.5 million years ago, but these days it serves as one of Whitehorse's premier attractions for nature lovers. It is part of a protected Greenbelt Park Reserve. Visitors can find day-use sites, picnic shelters, warming huts, recreation trails, historic sites, viewpoints and interpretive signs to guide them through hourly or day-long adventures.
A suspension bridge, trails along the Yukon River, an excellent trail system, a historic gold mining town and basalt cliffs adorned in orange lichen are the Canyon's main draws, as are plenty of opportunities to view the Yukon rapids and abundant wildlife.
A short hike from the suspension bridge leads to a series of rapids called the Devil's Punchbowl, which once caused havoc to rafters during the Klondike Gold Rush. The suspension bridge also connects with a 15-kilometre trail system and a 1.5-kilometre trail to Canyon City, once a gold rush town that operated a tramway for transporting minerals from surrounding mines to Whitehorse.
"You can hike right along the ridge to Canyon City with the Yukon River down below," said Linda Bierlmeier of Tourism Yukon. "There are remains of the supply stations and awesome interpretive panels out there to help you get a good feel of the history of the period."
Yukon Beringia Interpretive Centre
Step back in time to the ice age when vast, unbroken steppes stretched out and predators competed with humans for food. This is Beringia—the ancient place where giant mammals and the First People of North America left a striking fossil record that can be explored at Yukon Beringia Interpretive Centre.
Experience guided tours, multi-media presentations and interpretive displays depicting the Beringia landscape, flora and fauna. Explore the first scientific ice age fossil discoveries—which weren't news to First Nations in the region.
The centre also features an historical film, original works of art and exhibits of discovered remains from throughout the Yukon, including the Old Crow area and the famous Blue Fish Caves.
Bierlmeier recommends the centre's fantastic historical video and hands-on displays, which can keep families busy for hours.
"They have spears like the ones that would have been used at the time for hunting," she said. "You can go out and try throwing them, just to give you an idea of what that time would have been like."
Mountain biking
Whitehorse has some of Canada's best mountain biking trails, with terrain to match every skill level. Boréale Explorers offers guided mountain biking tours through the natural beauty of the North, with beginner and advanced trail options.
Marsha Cameron, co-owner of Boréale Explorers, said families can enjoy their Evening City Cycle Tour of Whitehorse, which takes pedallers through town on cruiser bikes for a pavement tour of the city's sights.
Older kids who can fit one of the company's mountain bikes or younger children with their own bikes can join their families for a scenic full- or half-day trail riding tour which includes the Yukon River, Grey Mountain and vista views of Whitehorse.
"It's a really fun time," said Cameron. "And you get to see some great scenic sights you wouldn't normally get to see."
S.S. Klondike National Historic Site
The S.S. Klondike—the largest sternwheeler on the upper Yukon River and the flagship of the BYN fleet—was built in Whitehorse in 1929 as an ore hauler. The ship was holed and sunk in 1936, then rebuilt the following winter and re-launched in the spring of 1937. She carried passengers and cargo until 1955, securing her status as the last Yukon River sternwheeler in active service.
Designated a National Historic Site in 1967, the S.S. Klondike now sits as a tribute to the era of steam-powered riverboat transportation on the upper Yukon River and hosts hundreds of visitors each year. Families with a taste for history and adventure can visit the S.S. Klondike throughout the summer months on self-guided tours.
"We have a special kids' activity book that they can take along with them as they go on board with the family," said Dan Verhalle, visitor experience and national historic site manager for Parks Canada. "In addition, families can play quoits, a ring toss game that was played by passengers on the SS Klondike when she operated on the Yukon River."
Families can also watch In the Days of the Riverboats, a film which takes visitors back to the days when the Yukon River was the only highway into the territory.