Discover Alberta by ATV
Rent an ATV or UTV in the town of Whitecourt to experience Woodlands County off the beaten path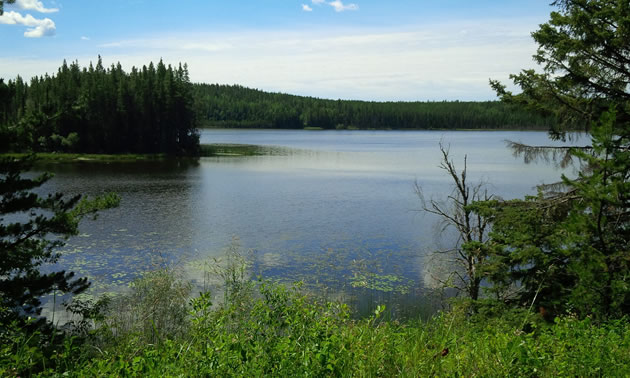 Are you travelling to Whitecourt and Woodlands County this summer? Discover the area by ATV for a real adventure! Travel quite literally off the beaten track on a quad or side-by-side to get a real feel for Alberta's outdoors.
If you don't have a machine of your own, you can still ride the trails. Whitecourt All Terrain can get visitors in town set up on a machine. Dave Lovgrin, the owner of Whitecourt All Terrain, has quite a few quads and side-by-sides in his fleet available for rentals.
Safety first
Lovgrin also runs ATV and UTV Rider Safety courses at his shop. These nationally recognized programs are beneficial for both experienced riders looking for a refresher, or beginners learning the rules of the trails. "We have a great general knowledge course that goes through all the trail safety and challenges to expect," he said. The courses cover proper riding techniques and rider awareness on 65 hectares (160 acres) of land.
The courses also walk riders through the basic mechanics of the machines. "It goes through the machine functionality, including the techniques to get yourself out of trouble if it arises." With this knowledge, riders can at least get themselves home if they experience issues with their machine.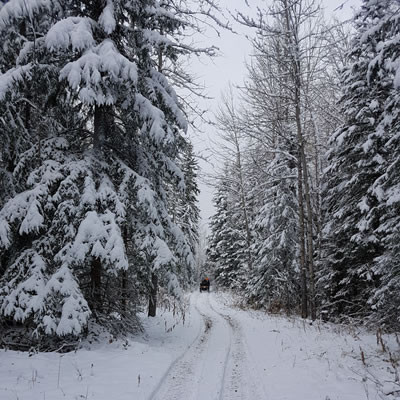 Finally, the Rider Safety courses cover more dangerous challenges that riders might experience while on the trails. "We teach riders how to anticipate hazards," Lovgrin said. The course takes riders through emergency exercises, including emergency stopping and obstacle avoidance.
Essentially, riders learn how to be safe on the trails. "For first timers, I have to recommend the safety course because there's such a broad base of knowledge in there," he said, "the general knowledge you would need to have a good time without injuring yourself." Each training session takes just under six hours over a single day. Whitecourt All Terrain schedules trainings daily by appointment.
The trails of Woodland County
There are over 400 kilometres of snowmobile trails in the area, some of which double as ATV trails when the thermometer rises. However, be sure to check the local ATV club's map to see exactly which trails are free to ride. The Whitecourt ATV Club is currently working to establishing permanent, sustainable trails within accordance with Alberta Environment and Parks. They have also dedicated their efforts to the Windfall Townsite, where they have temporary field authorization.
The terrain of Woodlands County is perfect for beginner to intermediate riders. "It's great for your average rider getting out with the family," said Lovgrin. "It's pretty gentle for the most part. There's lots of rolling hills and forests." Lots of the trails in the area come out to openings and viewpoints, on the summit of rolling peaks or alongside lakes.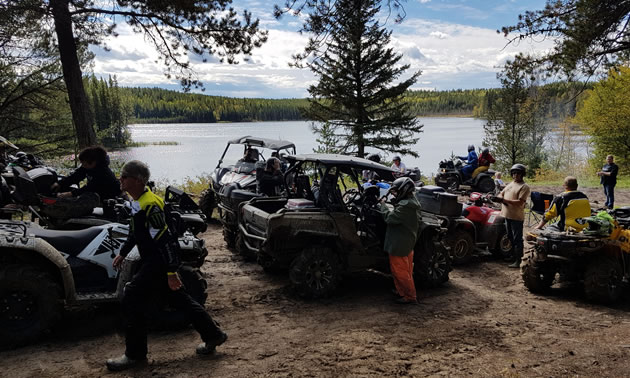 What to wear for your ride
In terms of equipment, helmets are mandatory on quads in Alberta, but are always a good idea. Gloves and goggles are also recommended for the most comfortable ride. Otherwise, be prepared to experience Alberta's wilderness because there are a few spots you will want to get off your machine to explore. "Full pants and sturdy boots are a good idea in case you have to get out in the mud. Long-sleeve shirts and chest protectors are also good to wear," said Lovgrin.
Whitecourt All Terrain's side-by-side rentals are enclosed and have rollover protection, so they are generally more protective than quads. Choose your machine based on the type of riding experience you want to have, then start exploring!